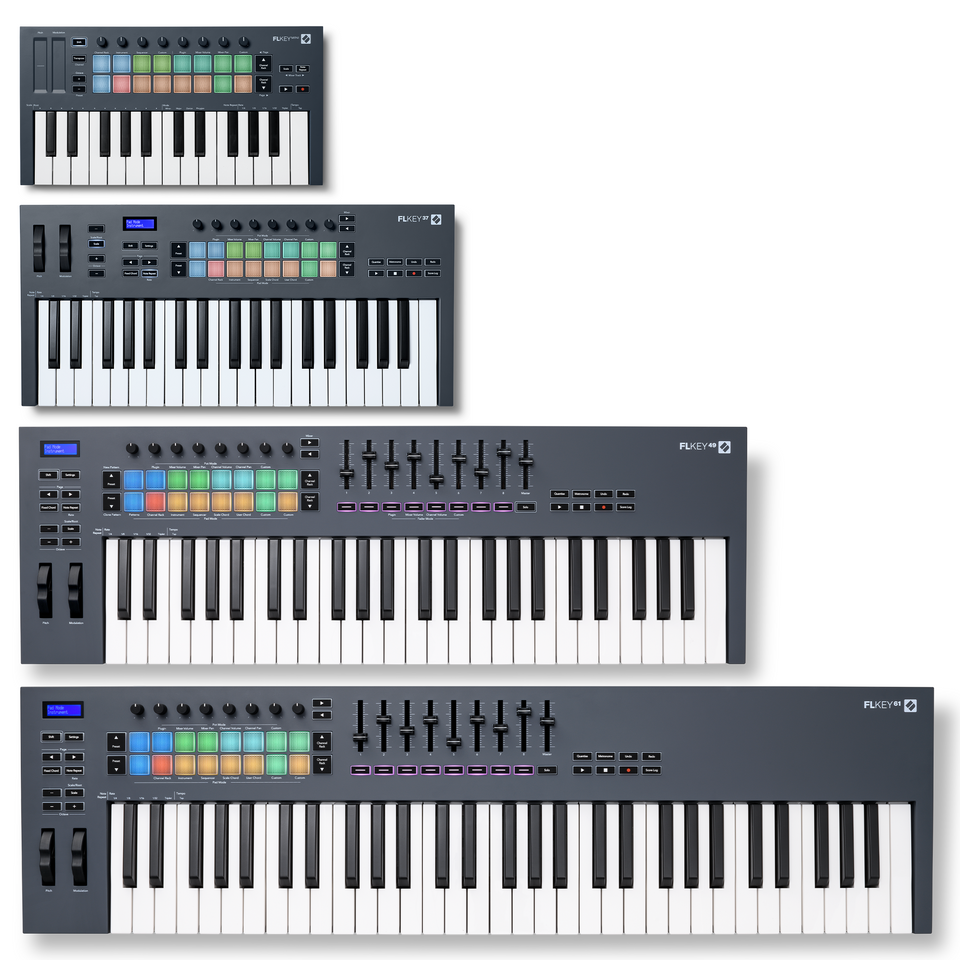 Connect with your music 
FLkey is the ultimate MIDI keyboard for making music in FL Studio. With controls for FL Studio's Step Sequencer, Channel Rack and Mixer, and creative Scale and Chord modes, FLkey lets you play freely so you can make more of your music.
Choose your FLkey
How to make a beat on FLkey in FL Studio with Lex Luger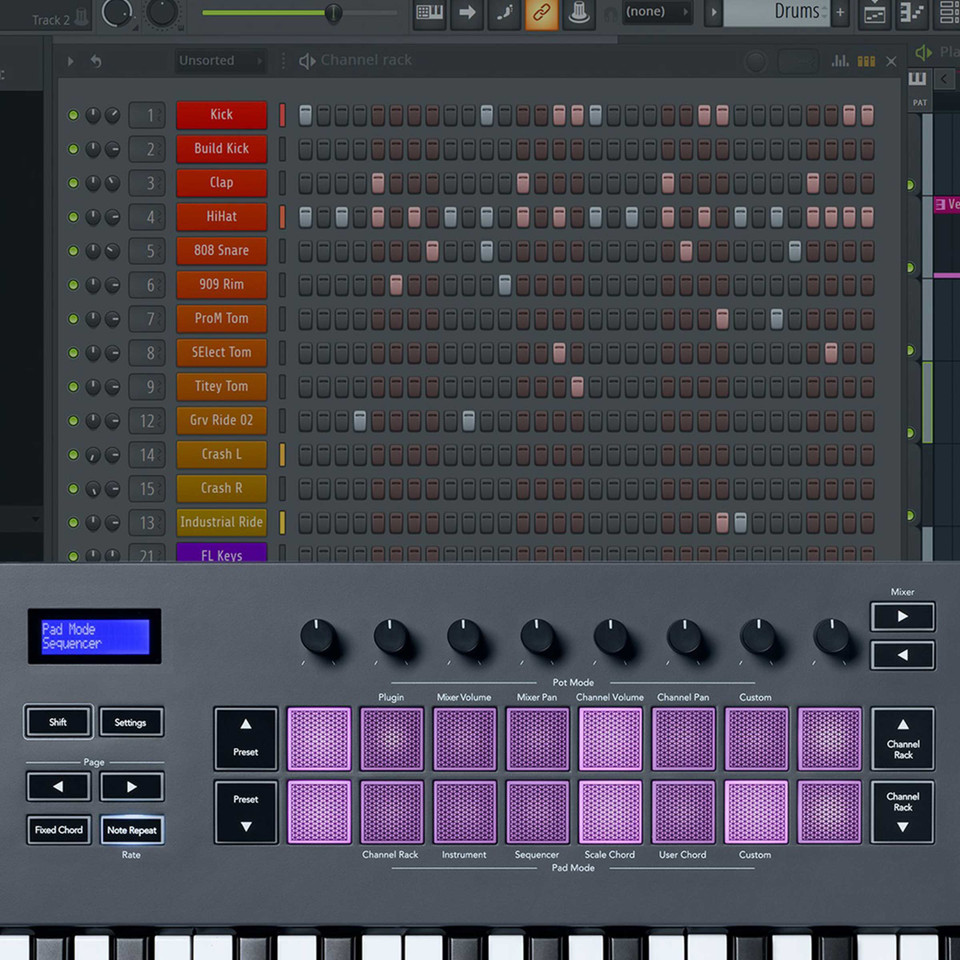 Stay in the groove
Sequencer Mode maps FLkey's pads to FL Studio's step sequencer for sketching beats fast. Two Pad modes give your rhythms real human feel and get you off the grid: play straight into the Channel Rack or FPC, and trigger slices in SliceX. Need some crisp hi-hat rolls? Note Repeat makes it easy every single time.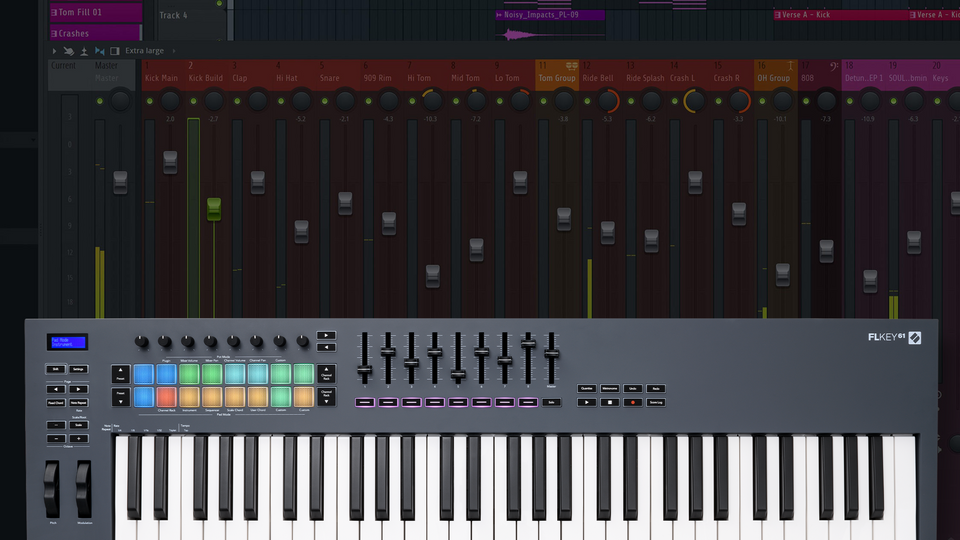 Mix, create and automate
Bring FL Studio's volume and pan controls off the screen and into your hands – use the eight pots to tweak your mix and record automation on the fly. Essential buttons give you quick access to transport controls and your Score Log, and you can also undo, redo, quantise, or toggle the metronome in an instant. Browse presets in your Image-Line plugins to change up instruments and sounds fast, with no mouse needed.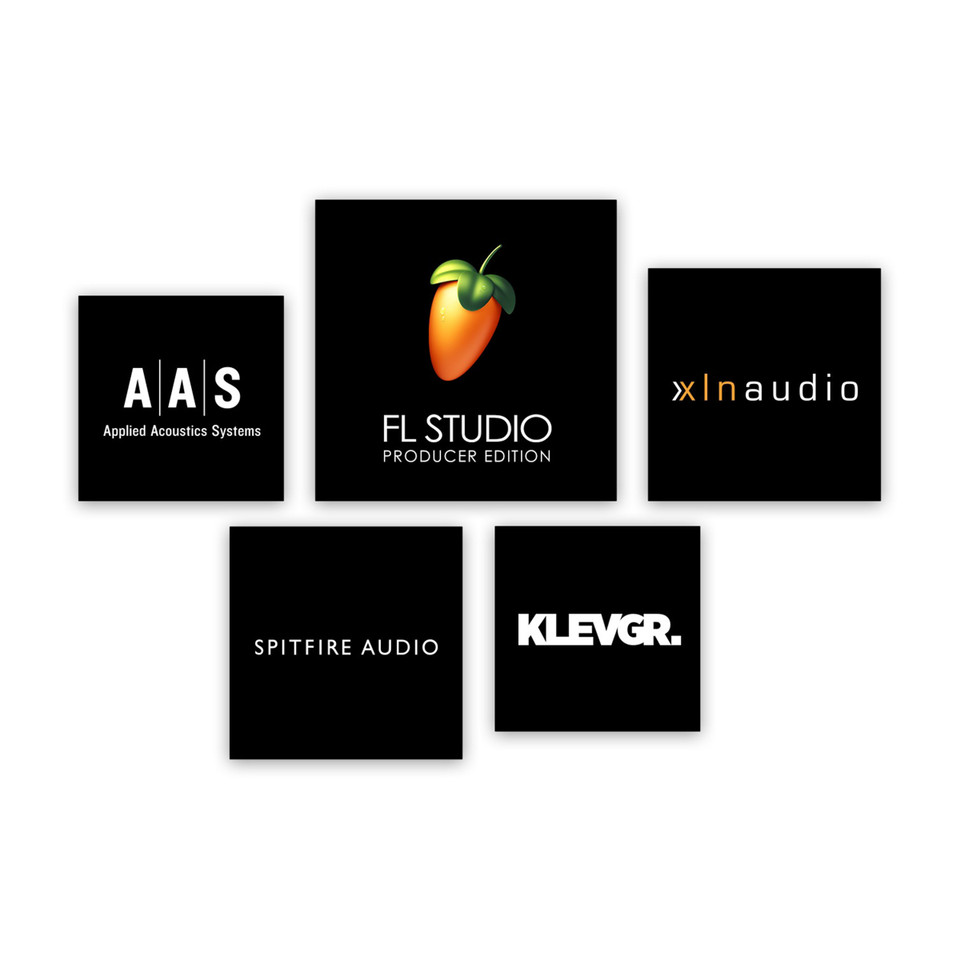 Included software
FLkey comes with a bundle of instruments and effects from our friends at AAS, Spitfire Audio, XLN Audio and Klevgrand. Throw all this content into your existing FL Studio projects, or have a go with an included 6-month free trial of FL Studio Producer Edition.
FL Studio Producer Edition (6-Month Trial) – FL Studio is the complete software music production environment, everything you need in one package to compose, arrange, record, edit, mix and master your best music.
XLN Audio Addictive Keys – Add great sounding piano to your tracks with the Studio Grand, based on the iconic Steinway® Model D. Plug in and play; you'll be instantly transported to a professional recording studio set up to capture this beautiful piano.
AAS Session Bundle – Essential sounds for your tracks: Lounge Lizard's authentic classic electric piano tones; Strum Session's acoustic and electric guitar sounds; Ultra Analog Session's easy-to-use, huge synth sounds.
Spitfire Audio LABS Expressive Strings – Get immediately expressive and realistic strings sounds. Control release, delay and reverb or fade in experimental warped layers to add colour to your tracks and scores.
Klevgrand R0Verb – A hybrid between a simple reverb and a very complex delay in an easy-to-use plugin. Design your own reverbs and put your sounds in their own unique space.
Klevgrand DAW Cassette – Bring your sound back to the golden age of cassette tapes, with an accurate recreation of saturation, distortion, noise and wobble.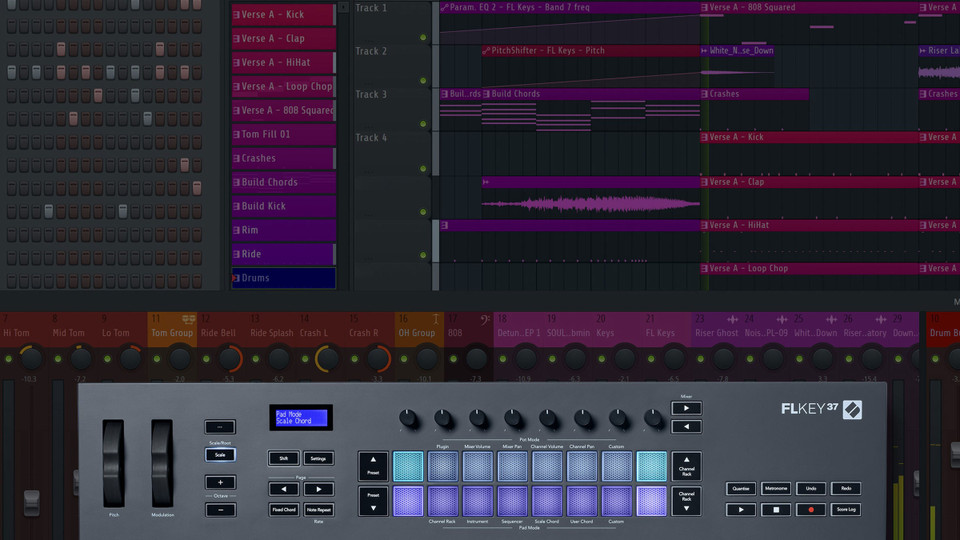 Make more of your music
In Scale mode you always hit the right note, keeping the music flowing. Easy-to-use Chord modes on FLkey 37, 49 and 61 expand your creative potential. Combine musical tools to immediately unlock new creative boundaries and find ideas you never knew you had.
"Superb controllers for FL Studio - they'll prove essential for live and studio use alike."
"The Novation FLkey 37 is the best FL Studio MIDI controller you can buy."
"It becomes very hard not to recommend its new FLKey line to anyone that uses FL Studio."
In the studio with Diego Ave
Seamless Integration with FL Studio
Produce music easily with essential controls at your fingertips.
Volume and pan control
Adjust volume and pan with eight pots.
Step sequencer
Take control of FL Studio's step sequencer and programme drums easily.
Channel Rack playability
Play directly into the Channel Rack from FLkey's pads.
Scale mode
Choose your scale and always hit the right note.
Instrument control
Trigger FPC, SliceX and Fruity Slicer with the pads for more expressive beats and melodies.
Plugin control
Control Image-Line plugins and record natural-sounding automation with FLkey's eight pots.
Preset browsing
Browse presets in Image-Line plugins directly from FLkey.
Fixed Chord mode
Play custom chords with one finger (FLkey 37, 49 and 61 only).
User Chord mode
Assign 16 custom chords and play them with just one finger. Store chord progressions for rapid song building and performance (FLkey 37, 49 and 61 only).
Scale Chord mode
Play 32 pre-made chords in eight different scales straight from the pads (FLkey 37, 49 and 61 only).
Custom modes
Assign custom controls to the pads and pots to tailor your music production workflow.
| | | | | |
| --- | --- | --- | --- | --- |
| | FLkey Mini | FLkey 37 | FLkey 49 | FLkey 61 |
| Keys | 25 | 37 | 49 | 61 |
| Key Size | Mini | Regular | Regular | Regular |
| Screen | ✘ | ✔ | ✔ | ✔ |
| Pitch and Mod | Touch Strips | Wheels | Wheels | Wheels |
| Pots | 8 | 8 | 8 | 8 |
| Faders | ✘ | ✘ | 9 | 9 |
| Fader Buttons | ✘ | ✘ | 9 | 9 |
| Pads | 16 | 16 | 16 | 16 |
| Note Repeat | ✔ | ✔ | ✔ | ✔ |
| Scale Mode | ✔ | ✔ | ✔ | ✔ |
| Fixed Chord | ✘ | ✔ | ✔ | ✔ |
| User Chord | ✘ | ✔ | ✔ | ✔ |
| Scale Chord | ✘ | ✔ | ✔ | ✔ |
| Channel Rack Pad Mode | ✔ | ✔ | ✔ | ✔ |
| Instrument Pad Mode | ✔ | ✔ | ✔ | ✔ |
| Sequencer Pad Mode | ✔ | ✔ | ✔ | ✔ |
| Pattern Pad Mode | ✘ | ✔ | ✔ | ✔ |
| Custom Pad Mode | ✔ | ✔ | ✔ | ✔ |
| Plugin Pot Mode | ✔ | ✔ | ✔ | ✔ |
| Mixer Volume Pot Mode | ✔ | ✔ | ✔ | ✔ |
| Mixer Pan Pot Mode | ✔ | ✔ | ✔ | ✔ |
| Channel Rack Volume Pot Mode | ✘ | ✔ | ✔ | ✔ |
| Channel Rack Pan Pot Mode | ✘ | ✔ | ✔ | ✔ |
| Custom Pot Mode | ✔ | ✔ | ✔ | ✔ |
| Graph Editor Control | ✔ | ✔ | ✔ | ✔ |
| Preset Browsing | ✔ | ✔ | ✔ | ✔ |
| Play | ✔ | ✔ | ✔ | ✔ |
| Stop | ✘ | ✔ | ✔ | ✔ |
| Pause | ✔ | ✔ | ✔ | ✔ |
| Record | ✔ | ✔ | ✔ | ✔ |
| Quantise | ✘ | ✔ | ✔ | ✔ |
| Metronome | ✘ | ✔ | ✔ | ✔ |
| Tap Tempo | ✔ | ✔ | ✔ | ✔ |
| Undo | ✘ | ✔ | ✔ | ✔ |
| Redo | ✘ | ✔ | ✔ | ✔ |
| Score Log | ✘ | ✔ | ✔ | ✔ |
| Mixer Navigation | ✔ | ✔ | ✔ | ✔ |
| Channel Rack Navigation | ✔ | ✔ | ✔ | ✔ |