Description
Built on the innovative foundations of our critically acclaimed Peak synthesiser, Summit is a three-oscillator-per-voice, 16-voice keyboard synth that aims to inspire, empower, whether on stage or in the studio. Its Digital New Oxford Oscillators combine the best of analogue sound and digital flexibility – including inbuilt and custom digital wavetables.
Effectively placing the power of two Peaks at your fingertips, Summit allows two completely independent patches to be split or layered across the keyboard or switched between on the fly. It also expands on Peak's layout, with many additional controls and functions now accessible on the front panel
Peak powered up – the acclaimed Peak architecture taken to the next level, with 16 voices, expanded controls, new filter options, and more
Digital where it counts – digital FPGA-generated New Oxford Oscillators for analogue-style, wavetable and FM synthesis
Analogue where it matters – dual analogue filters, analogue VCAs and three stages of analogue distortion per voice
Two sounds at once – multitimbral engine for splitting, stacking and switching between two simultaneous patches
Wavetable Editor – featuring drawing tools and a Live Edit mode, so you can draw your own oscillator shapes and preview them in real time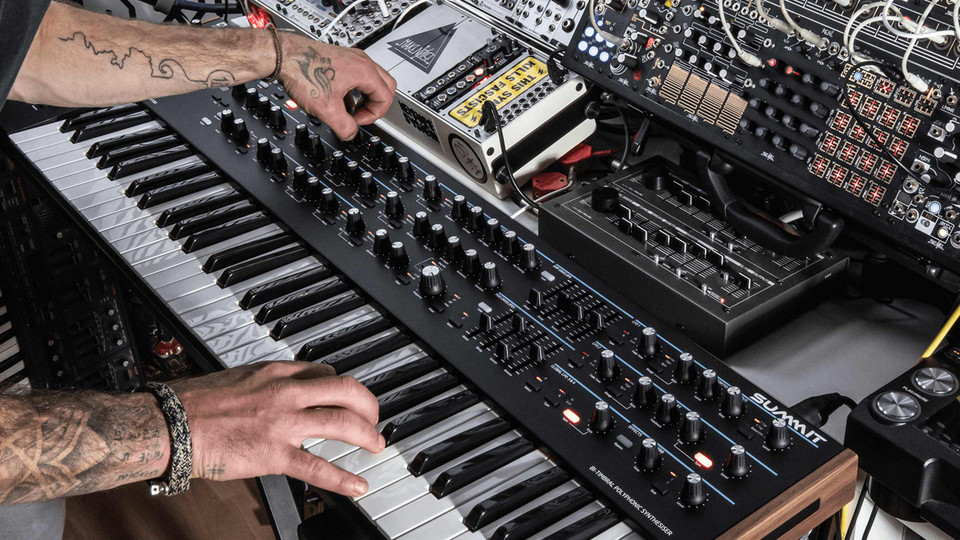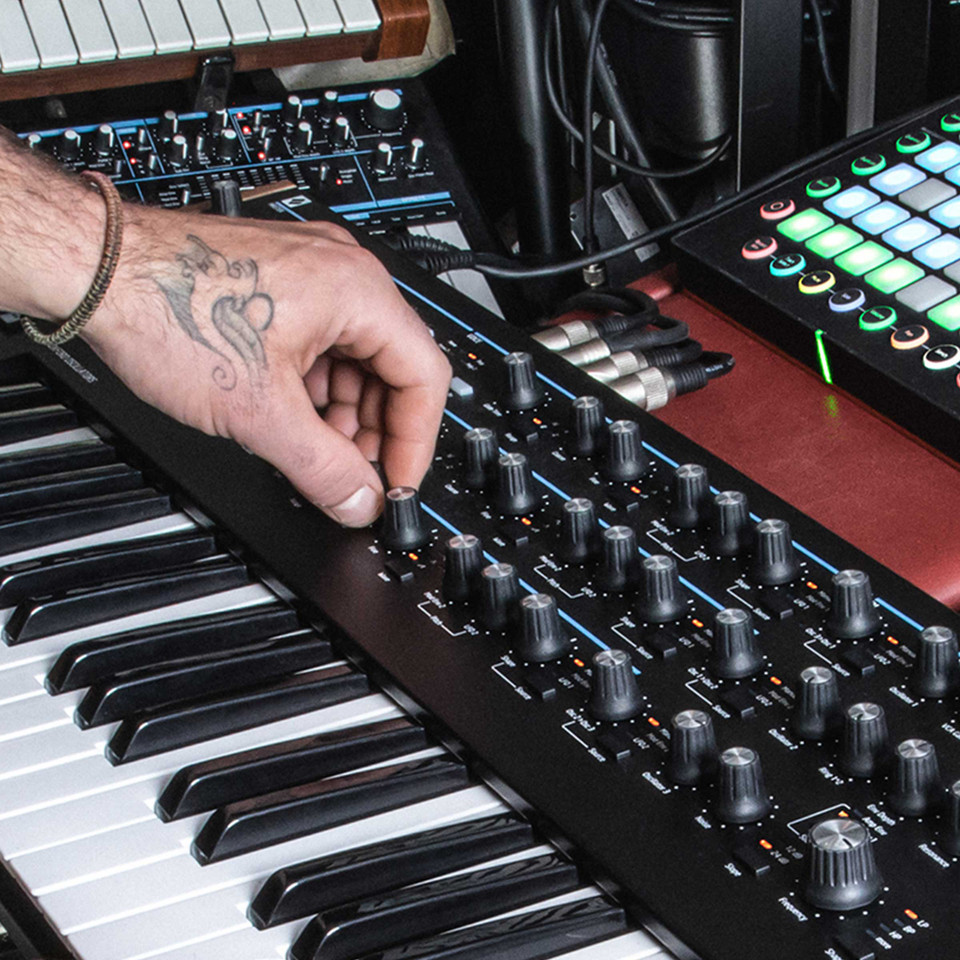 The best sounding synthesiser Novation has ever made
Summit doubles the power of Peak's digital New Oxford Oscillators up to 16 voices and two parts, and adds a wealth of new features and a premium-quality five-octave keyboard. A synth much greater than the sum of its parts, it gives the serious producer or performer everything they need to design and play stunning basses, leads, arps, pads, effects and beyond.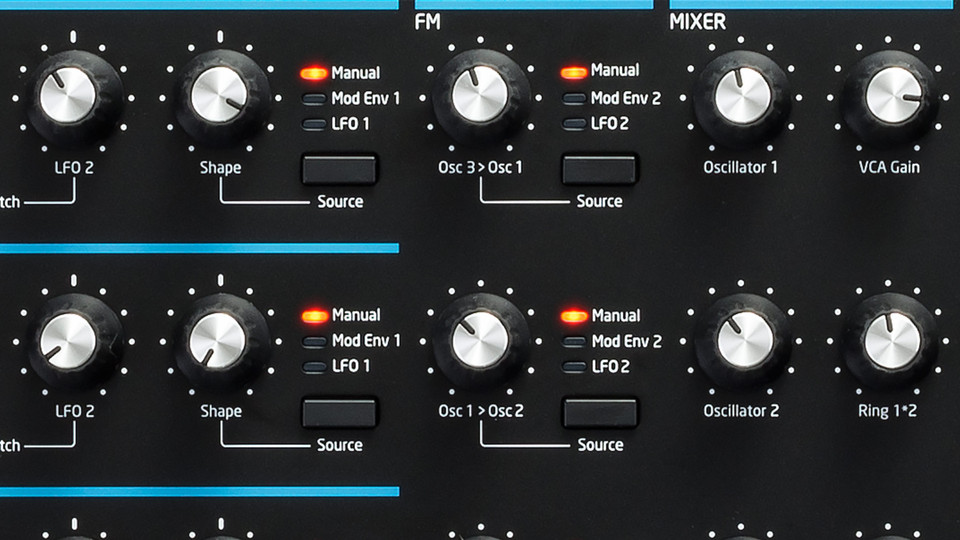 Totally tactile sound design
Summit takes Peak's architecture and workflow to new heights, with a swathe of extra front panel controls for hands-on wrangling of FM, effects, LFOs and more; dual filters with six LP/HP/BP combinations; audio input for processing external sources with the onboard effects; and auxiliary audio outputs.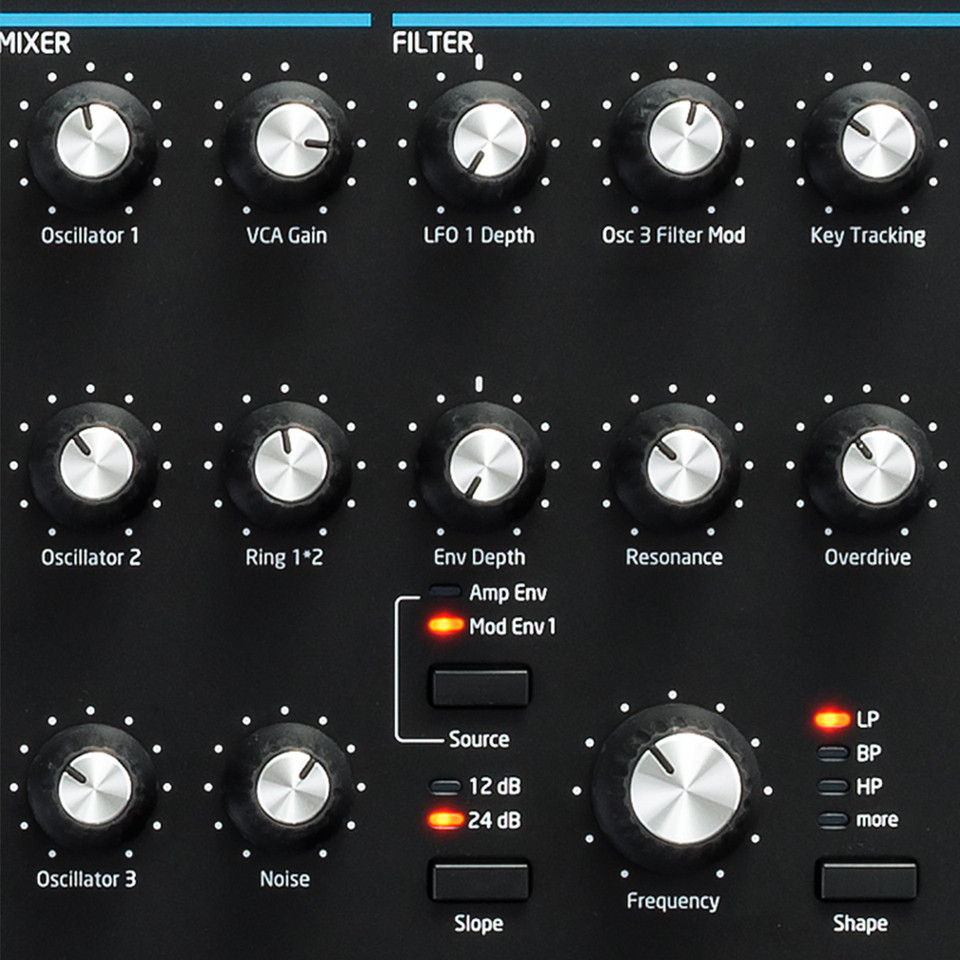 Analogue where it matters
The true stereo analogue signal path comprises dual analogue multimode filters, analogue VCAs and three stages of analogue distortion – pre- and post-filter, and post-VCA. With roots in the legendary OSCar, via Bass Station II, Summit's analogue credentials are truly impressive.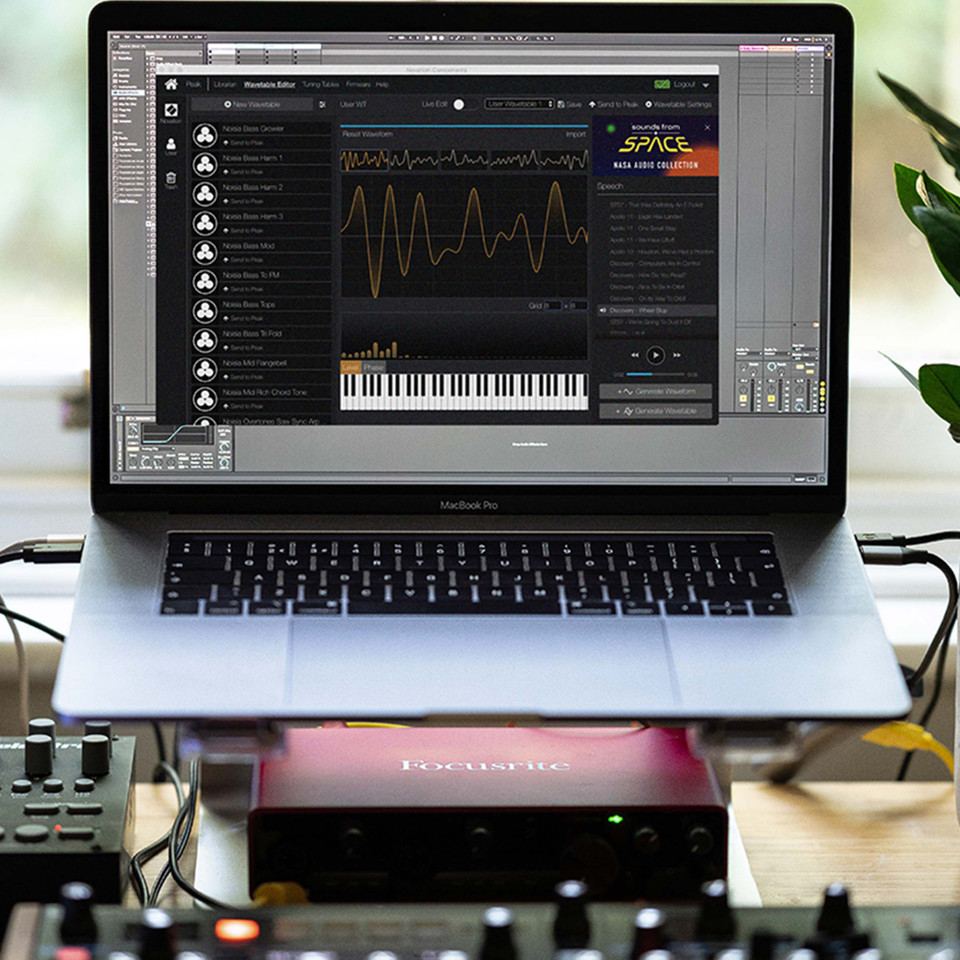 Wavetable Editor
The Wavetable Editor unleashes the power of the wavetable oscillators. It features drawing tools and a Live Edit mode, so you can draw your own oscillator shapes and preview them in real time. Audio import lets you load in your own audio to be used as the oscillator waveform. Included is a curated selection of space-themed audio from the NASA sound library, plus exclusive content from production giants Noisia.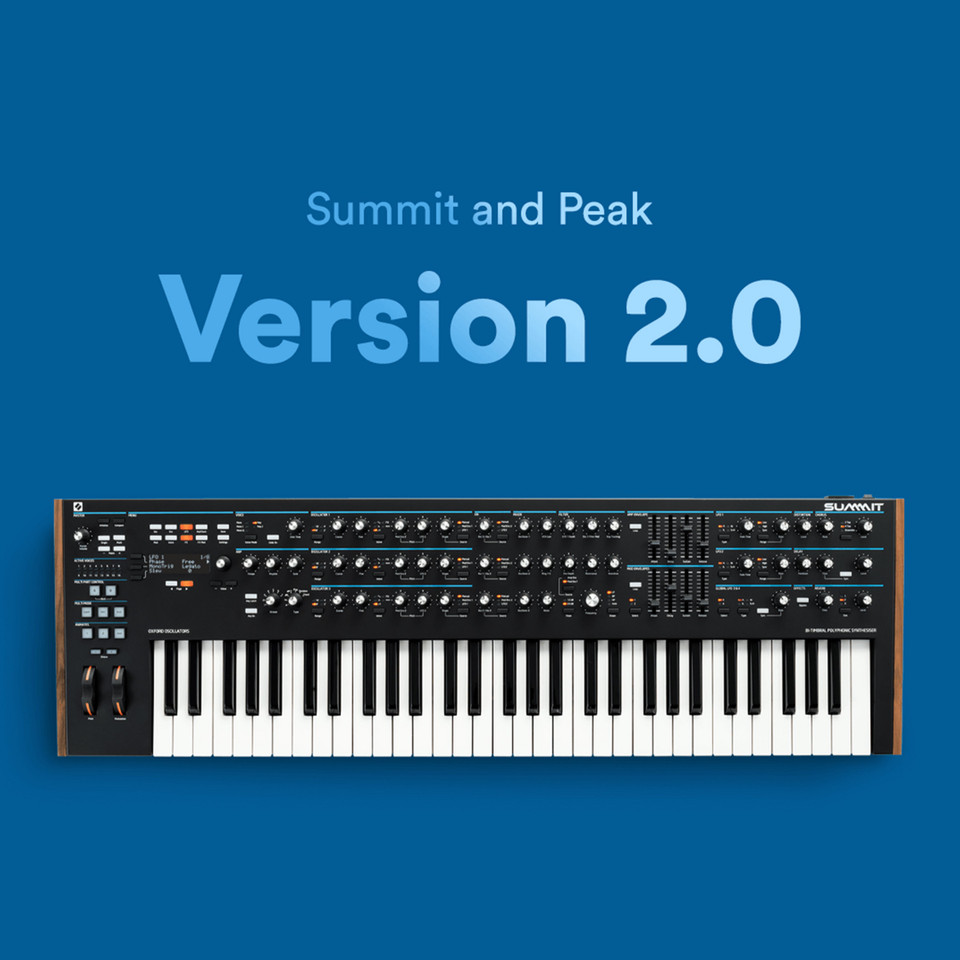 Summit firmware update v2.0
In Novation's biggest update for Summit, firmware update v2.0 brings a multitude of features across stereo controls, modulation and unpredictability, and effects, that give you powerful tools to shape your sound.
Create more intricately textured soundscapes with updated stereo controls. Experiment with expansive sound design with modulation and unpredictability. A range of effects improvements bring new tonalities with the addition of Chorus Modes, Flanger, Phlanger, new effects modulation destinations and Lo-Fi delay.
Have a look at the full details of firmware update v2.0 for Summit in the Release Notes.
Release notes
Summit performance - Hinako
Overview
50 control knobs

8 45mm sliders

1 volume knob

1 data encoder knob

Rubberised knob caps with spun metal discs

55 function buttons

2 Animate buttons plus hold button

OLED display

Kensington Lock

Power switch

IEC power supply connector

USB socket for system (MIDI comms only, no bus power)

MIDI In / Out / Thru

2 1/4" jack sockets for continuous or switched pedals

1 3.5mm jack socket for CV in

2 1/4" jack sockets for left and right outputs

2 1/4" jack sockets for left and right auxiliary outputs

2 1/4" jack sockets for left and right inputs

1/4" jack socket for headphone output

Metal chassis with American walnut wooden end cheeks

Metal magnetic inset end pieces
Dimensions
Width

998.5mmmm

Depth

92mm

Height

303.5
Software compatibility
Ableton Live Lite is included

Summit is a USB-MIDI class compliant device
Power requirements
Maximum power consumption 1A
Synth engine
16 note polyphony (dependent on voices used per note)

2-part-timbral

Layered, Split, Dual Bi-Timbral Modes

5 Voice Modes - Mono, MonoLG, Mono2, Poly, Poly2
Per voice
3 oscillators

1 noise generator with HP filter control

1 ring modulator

2 LFOs

1 amp envelope and 2 mod envelopes (ADHSR + looping)

1 filter
Waveforms include
Sine, tri, sawtooth, square / pulse, plus 43 wavetables of 5 waveforms per row
Filter
1 state variable OTA filter per voice

12/24dB slope

Low-pass / band-pass / high-pass / dual filter (separation of each 12dB filters)

dual filter: LP > HP, LP > BP, HP > BP, LP + HP, LP + BP, HP + BP, LP + LP, BP + BP, and HP + HP

Pre-filter overdrive

Post-filter distortion
Modulation
16 modulation slots per patch

2 sources per destination per slot
Mod sources
Direct (depth)

Modulation wheel

Aftertouch (polyphonic and channel AT)

Expression pedal 1

Expression pedal 2

Keyboard velocity

LFO1 positive

LFO1 bi-polar

LFO2 positive

LFO2 bi-polar

Amp envelope

Mod envelope 1

Mod envelope 2

Animate 1

Animate 2

CV mod input bi-polar

Bend Up

Bend Down
Mod destinations
Oscillator 1-3 frequency, v-sync level, shape amount and level

Noise source level

Ring modulator output level

Overall synth output level

Filter drive, distortion, cut-off frequency and resonance

LFO 1 and 2 frequency

Amp env / mod env 1 / mod env 2 attack, decay and release

FM Osc 1 -> osc 2, osc 2 -> osc 3, osc 3 -> osc 1 and noise -> osc 1

Osc 3 -> filter cutoff frequency

Noise -> filter cutoff frequency
Effects
FX are per part

Analogue distortion

3 chorus types

Delay with 16 types of delay sync, LP and HP damping, slew and stereo


FX Mod Matrix source
Direct (depth)

Mod wheel

Aftertouch

Expression pedal 1

Expression/breath pedal 2

Velocity

Keyboard

LFO 1 +/-

LFO 2 +/-

LFO 3 +/-

LFO 4 +/-

Amp envelope

Mod envelope 1 & 2

Animate 1 & 2

CV +/-

Bendwheel +/-

Bend up

Bend down
FX Mod Matrix destinations
Distortion level

Chorus level

Chorus rate

Chorus depth

Chorus feedback

Delay level

Delay time

Delay feedback

Reverb level

Reverb time

Reverb low pass

Reverb high pass
Misc.
FM controls on front panel

Global LFO 3 & 4

Arpeggiator with key latch – 33 patterns

Patch storage - up to 512 on hardware (ships with 256 factory patches)

All knobs (excl. volume), sliders and most buttons transmit and receive MIDI cc commands for external control and mapping

Microtuning with Scala table import and table tuning creation

Manual mode

Multi pot mode: Relative, Pot pick-up, Snap