Description
Made to move, Launchkey Mini brings the best of Novation's most popular MIDI keyboard controller range to our most compact and portable form factor. Get everything you need to start creating in Ableton Live with a MIDI keyboard controller that'll fit in your bag.
Add dynamic, expressive rhythms with 16 super-sensitive pads for drumming and clip launch. Get creative with a powerful arpeggiator, fixed chord mode, MIDI out, and tons of sounds included. And when it's time to finish your tracks, essential transport and mixer controls help you get the job done with fewer mouse clicks.
Deep and intuitive Ableton Live control – including device macro control, track select, record, capture MIDI, clip and scene launch, stop/mute/solo, volume, pans and sends
Creative arpeggiator – easy to use but deeply controllable: change rhythm, beat, pattern, octave, gate, and more
Play chords with one finger – assign a fixed chord shape to the keys and it'll transpose as you move up and down the keyboard
MIDI Out – take Launchkey Mini anywhere, send arps and program changes to your hardware synths, or add keys to your groovebox directly over MIDI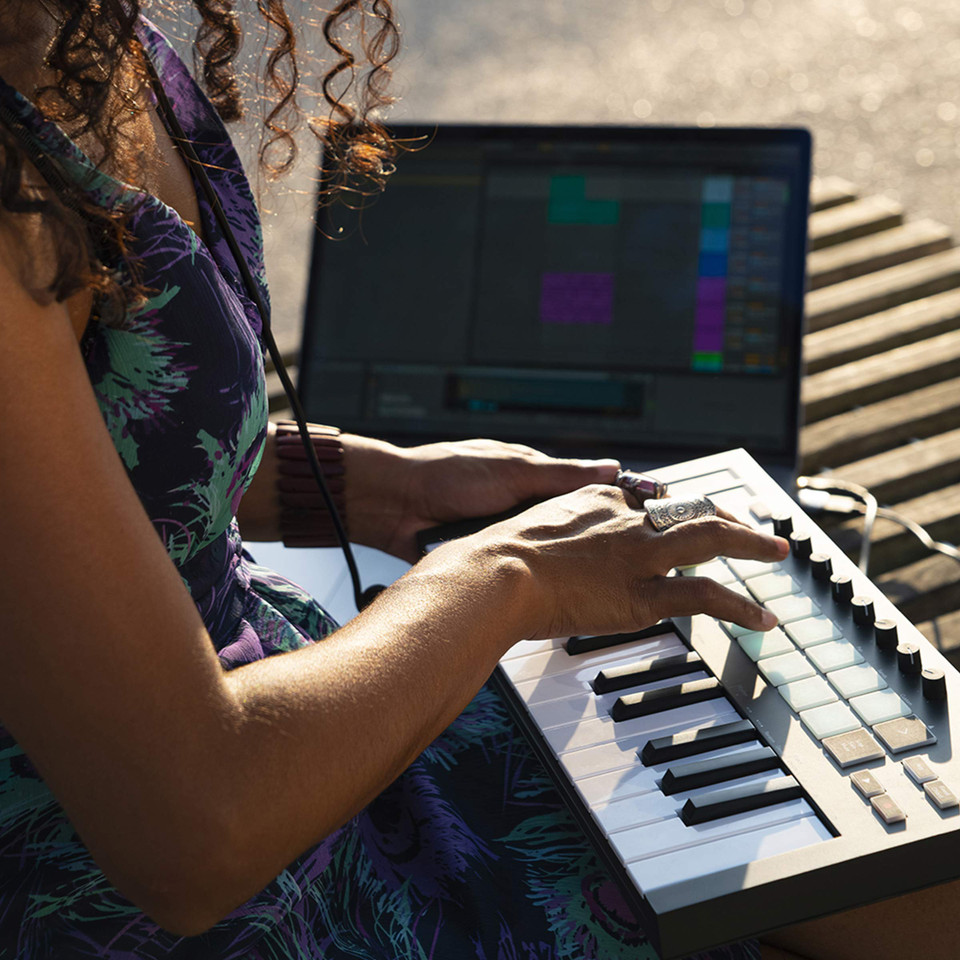 Your tracks, your way
Step back from the screen and feel the beats. Launchkey Mini's deep and intuitive integration with Ableton Live lets you move where the music takes you. Transport, device and mixer controls mean fewer mouse clicks. Device macros and mixer controls mean more hands-on control of your music. Launchkey Mini puts the sounds from your head into your hands.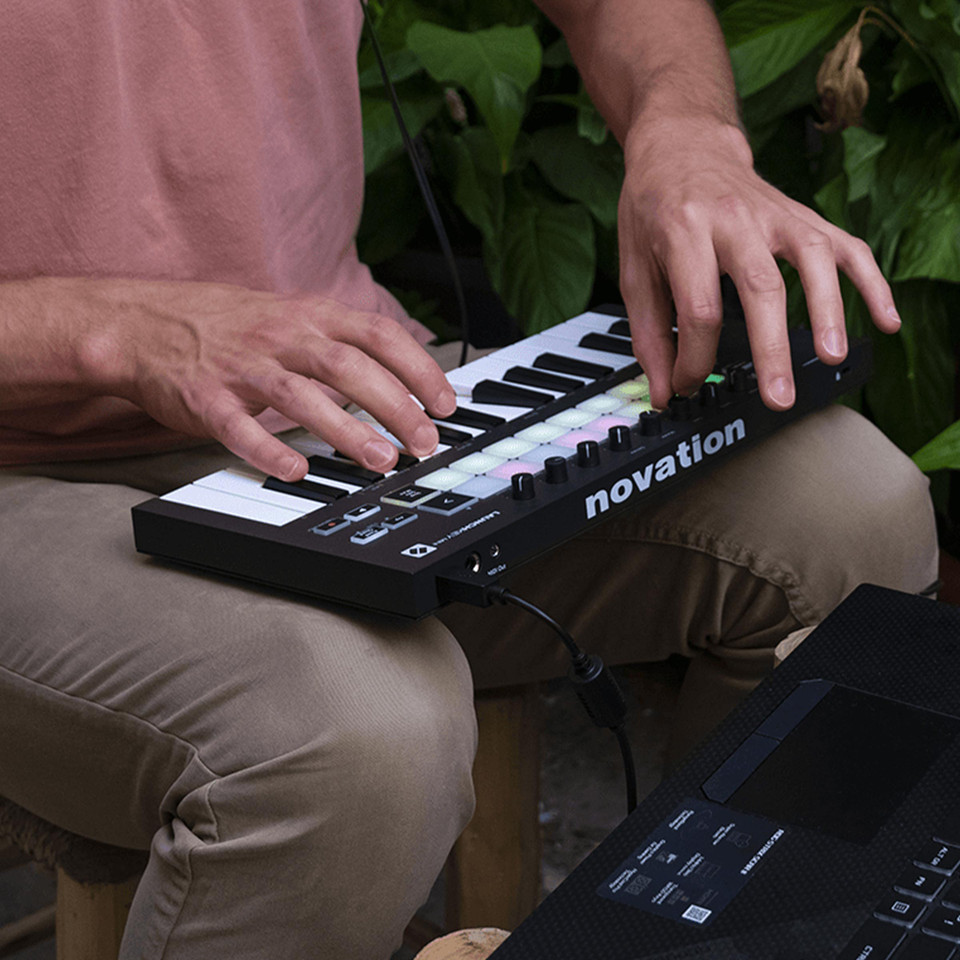 Get creative
Get new melodies, rhythms and sounds flying from your fingertips with Launchkey Mini's easy yet powerful arpeggiator. Fixed Chord mode takes your ideas further, adding a customisable fixed chord shape that follows you up the keyboard. Add dynamic, expressive rhythms with 16 super-sensitive pads for drumming and clip launch.
Plug straight into Ableton Live, get your ideas down and create - Launchkey Mini gets any track moving.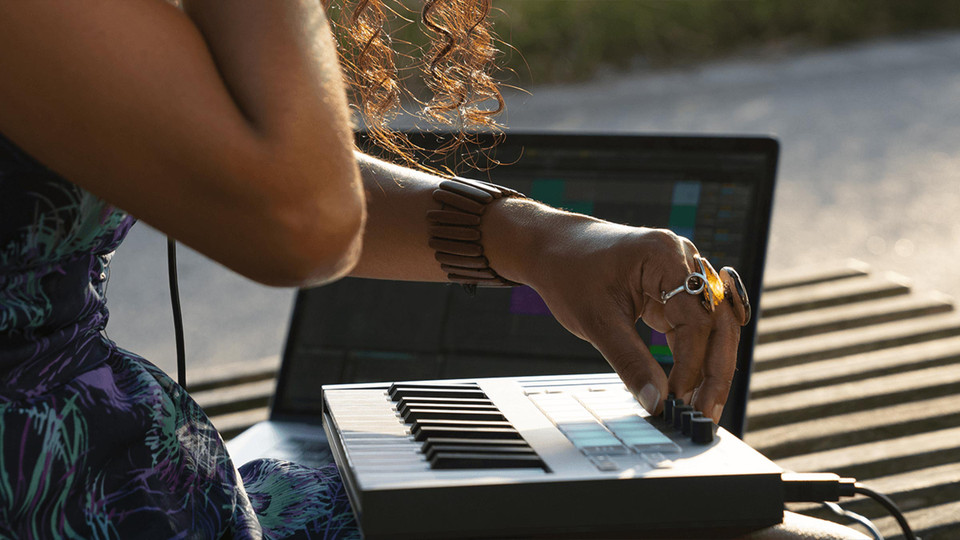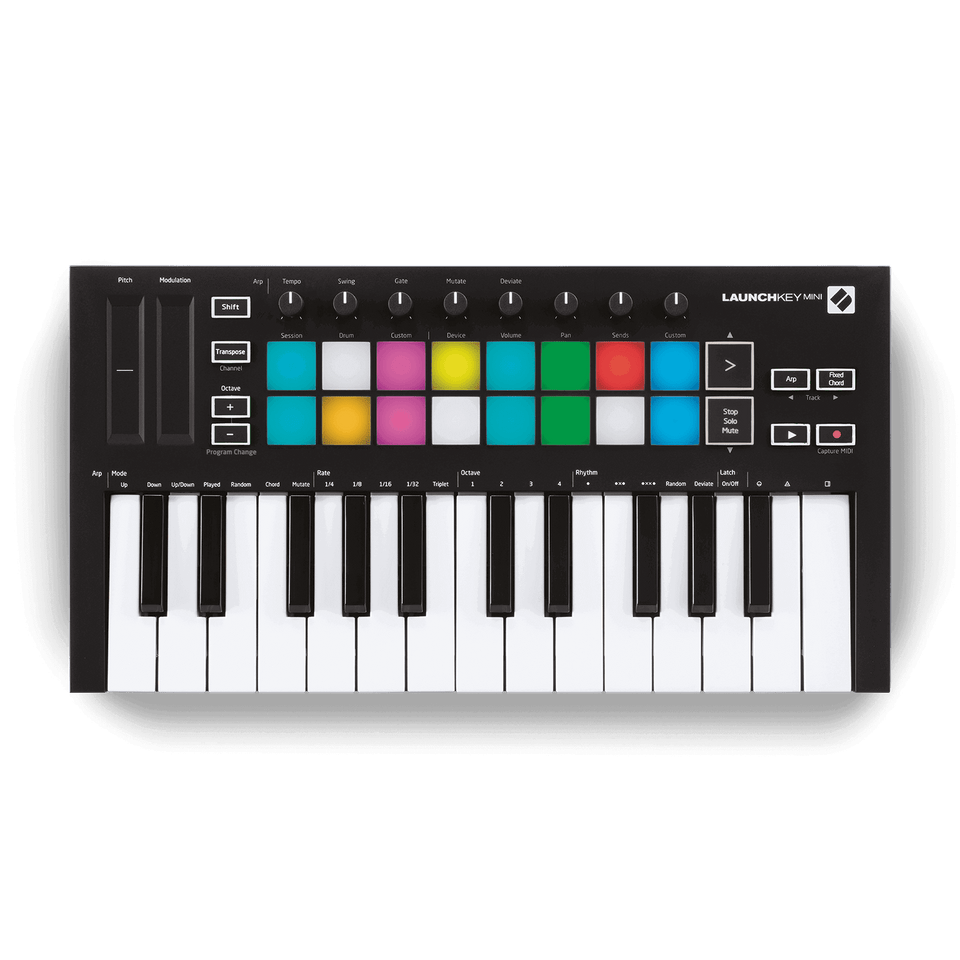 Standalone operation
Launchkey works standalone, so it's the perfect controller for any music-making setup, with or without a computer. Fixed Chord Mode, arpeggiator and Custom Modes can all be used to control an all-hardware studio or live rig.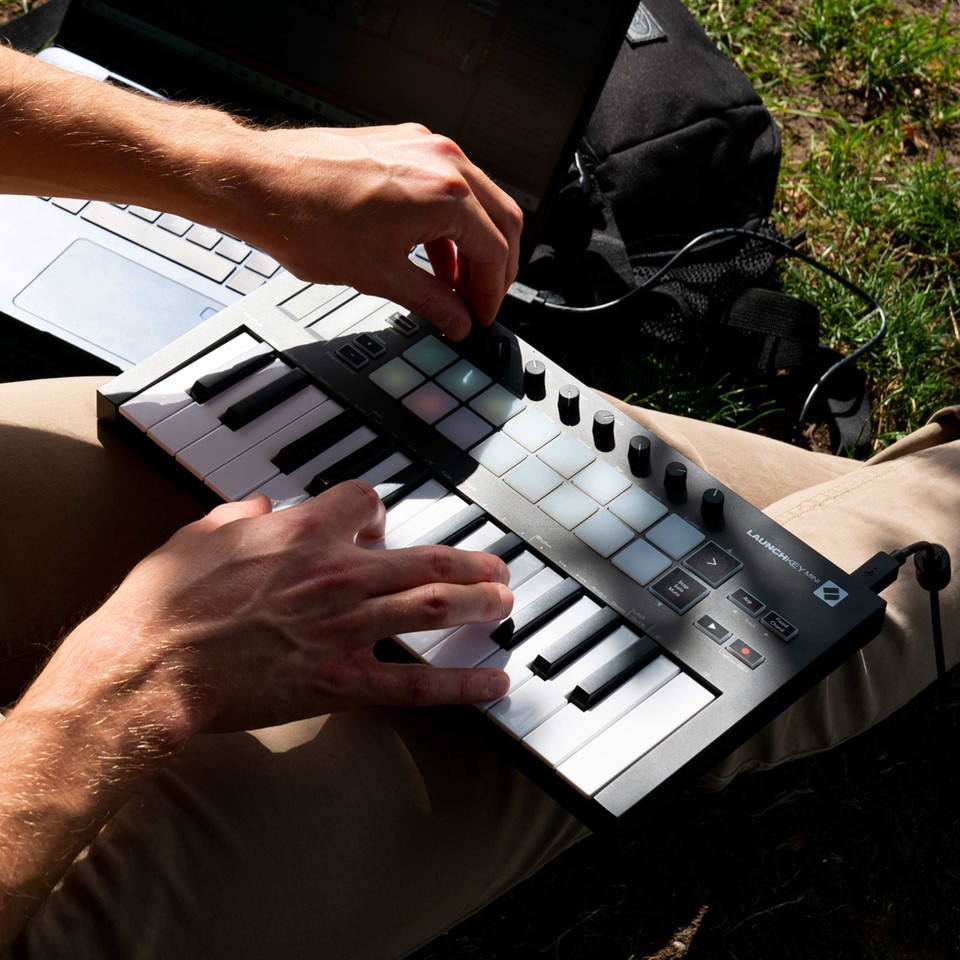 It's an instrument – play it
Launchkey Mini features a completely new mini-keymech – our finest to date – and is great to play. Two touch strips for pitch and mod let you really feel your sounds. For even more playing potential, you can strum chords with Strum Mode. The 16 RGB pads are super-sensitive for precise, dynamic and nuanced drumming. Connect your sustain pedal and add even more expression to your playing. Launchkey Mini feels as good as it looks.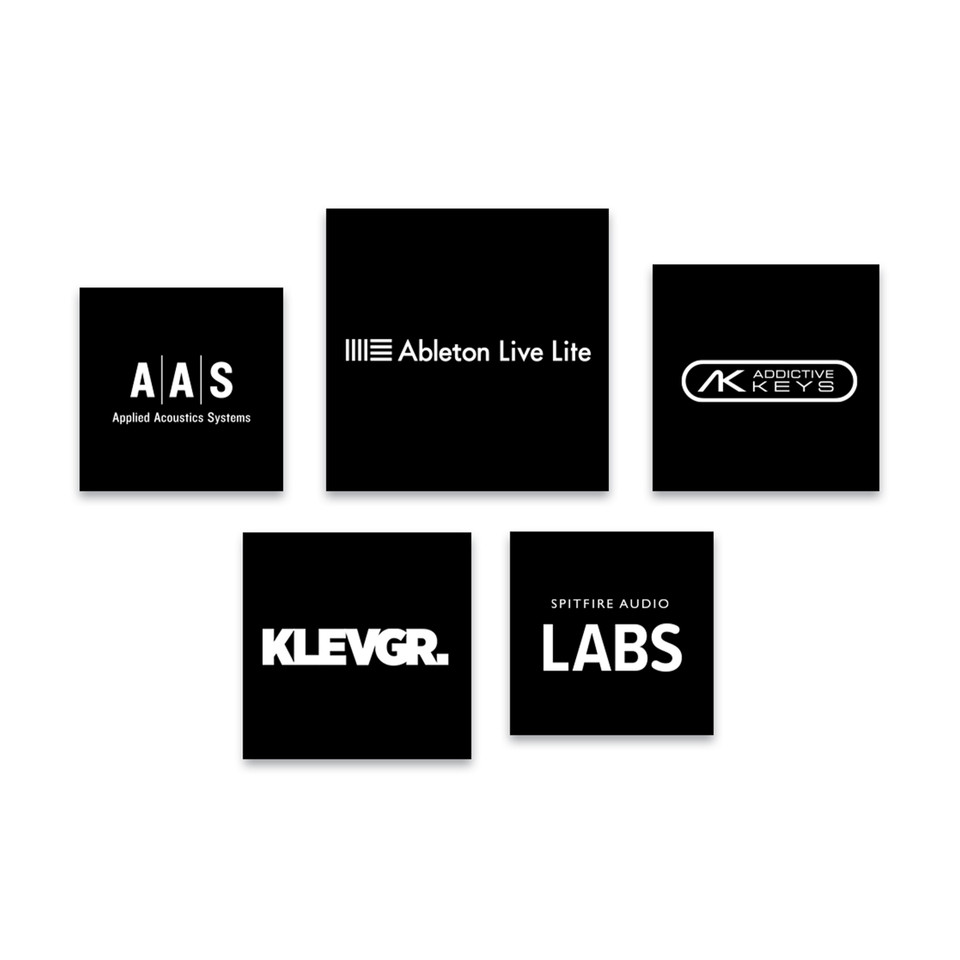 Included software
Ableton Live Lite - The renowned electronic music creation software, with seamless Launchkey integration. With effects, instruments, sounds and all kinds of creative features included – everything you need to make any kind of music.
XLN Audio Addictive Keys - Add great sounding piano to your tracks with the Studio Grand, based on the iconic Steinway® Model D. Plug in and play; you'll be instantly transported to a professional recording studio set up to capture this beautiful piano.
AAS Session Bundle - Essential sounds for your tracks: Lounge Lizard's authentic classic electric piano tones; Strum Session's acoustic and electric guitar sounds; Ultra Analog Session's easy-to-use, huge synth sounds.
Spitfire Audio LABS Expressive Strings - Exclusive to Launchkey: get immediately expressive and realistic strings sounds. Control release, delay and reverb or fade in experimental warped layers to add colour to your tracks and scores.
Klevgrand R0Verb - A hybrid between a simple reverb and a very complex delay in an easy-to-use plug-in. Design your own reverbs and put your sounds in their own unique space.
Klevgrand DAW Cassette - Bring your sound back to the golden age of cassette tapes, with an accurate recreation of saturation, distortion, noise and wobble.
Specifications in detail
Overview
25 minikeys

1 x Touch Strip for pitch-bench with centre zero

1 x Touch Strip for modulation

8 knobs

16 RGB backlit, velocity sensitive pads

Transpose buttons

Octave up/down buttons (with preset function as shift)

Play and record buttons

Arp, fixed chord buttons

Stop/solo/mute button

Scene launch button

3.5mm TRS MIDI Type A jack socket for MIDI Out (MIDI din break-out cables NOT included)

USB socket

Kensington MiniSaver slot

MIDI channel selection

Capture MIDI function

Tracks function

Scene down function

Scene up function
Dimensions
Width

330mm

Depth

172mm

Height

40mm (31mm excluding pots)
Software compatibility
Works with Ableton Live 10 or later. Ableton Live Lite included.

Logic script, Reason script; all other DAWs through HUI i.e. Protools, Reaper, Studio One.

Launchkey also works as a standard MIDI controller.
Power requirements
USB bus powered

Power supply not included