"What Androids Would See If They Were Hallucinating"
Visual artist Weirdcore on creating the AFX Station giftbox artwork
The world is teeming with artists who are skilled at their craft, but the list of those who have managed to carve out a unique niche, creating the kind of work that could only come from their unique technique or vision, is much shorter. It's a safe bet that, within the world of those working with electronically-generated visuals, the man known as Weirdcore would be near the top of that roster. His phantasmagoric video work for music makers like Radiohead, Mos Def and the 1975 would be enough to land him on the list, as would the kaleidoscopic, densely-packed live environments he's created for the likes of M.I.A., Gwen Stefani and Mylie Cyrus.
Towering above them all, however, are Weirdcore's live collaborations with electronic-music master Richard D. James, better known as Aphex Twin. In a 2017 interview with Novation, he described his live-gig work interpreting James's music and ideas into imagery, as "a mix of psychological overload and psychedelic overload," and that's about as succinct a description of those surreal, hyperactive and occasionally nightmarish visuals as you'll find.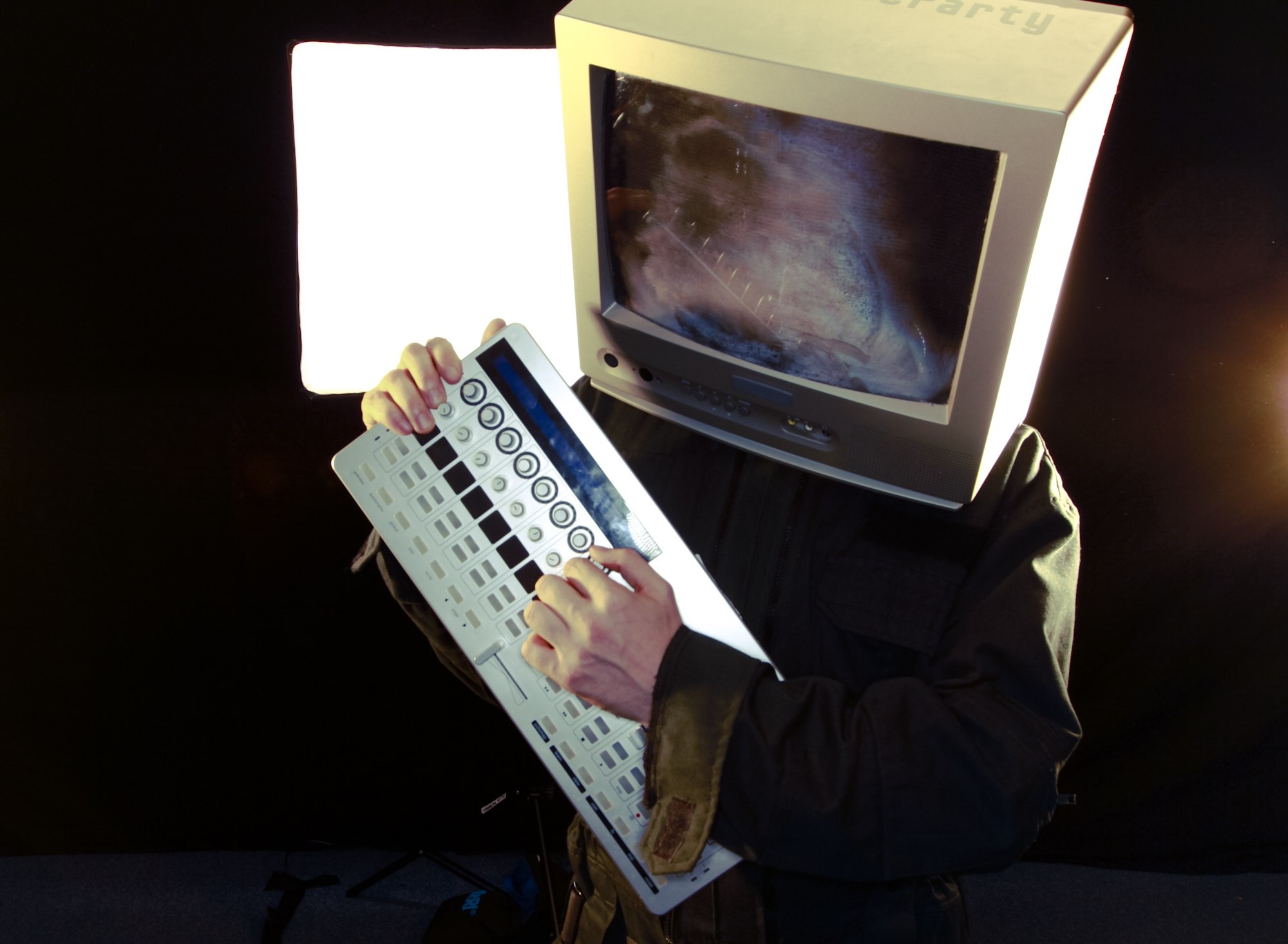 Weirdcore has been a fan of Novation controllers for some time. Here he is modelling a Zero SL MkII in 2012.
Weirdcore's mind-bending maximalism is in demand because he's just so good at it, having honed his style over the past two decades. "I've always been keen on the arts," he says, "but I didn't really do it so much at a young age." That all changed when the long-time Daft Punk fan went to see the French duo at the Que Club in Birmingham, a gig immortalized on the Alive 97 album. "It was the first time I saw them with visuals, which were pretty groundbreaking for the time. I was like, 'Yes! That's going to be my direction in life.'"

And it was. While working in web design and interactive design as the '90s slide into the '00s, Weirdcore began working with live visuals, honing his controlled-chaos visions at pretty much any gig he could land. "When I started," he says "I was using this Japanese software called Composite Station. It was quite a bit like what Coldcut was using at the time, called VJamm. You'd basically have a clip on each key of your computer, and a key for each effect. It was good, but I found that after an hour or so, your fingers can't do what you want them to do anymore. Like, you want to get to that key over there, but you can't get your hands to get there! I swiftly moved on to Max/MSP," software which allowed him to create his own bespoke programming environment.

Novation's been a part of Weirdcore's technique since the early 2000s. "It was when the first Remote SL came out," he recalls. "I was using it purely as a MIDI controller. I've had pretty much every ReMOTE SL since then." The Launch Control and Launchpad Pro controllers, set in programmer mode, became part of his arsenal a bit later, and he set about adapting them to his own idiosyncratic needs as a visual artist. "I've really gone down the rabbit hole of patches," he says, "and of setting presets for the patches. I work with Max/MSP to communicate with the preset system that I've got — I've got a preset for the camera movement, for instance, or a preset for the lighting, or a preset for the speed of the animation. And within those, I'll have more presets for how things will morph from one preset to the other. That way, I can do a whole show without changing individual parameters at all."
Weirdcore first hooked up with Aphex Twin through mutual friends, and in 2002 he happened to be doing the visuals for an event in Paris that James was playing. "But it wasn't till 2009 that I really began working with Richard, when the agent sent me an email out of the blue asking if I wanted to do live visuals on his tour — which was pretty amazing," he recalls. "It was so amazing, I thought it was a joke!"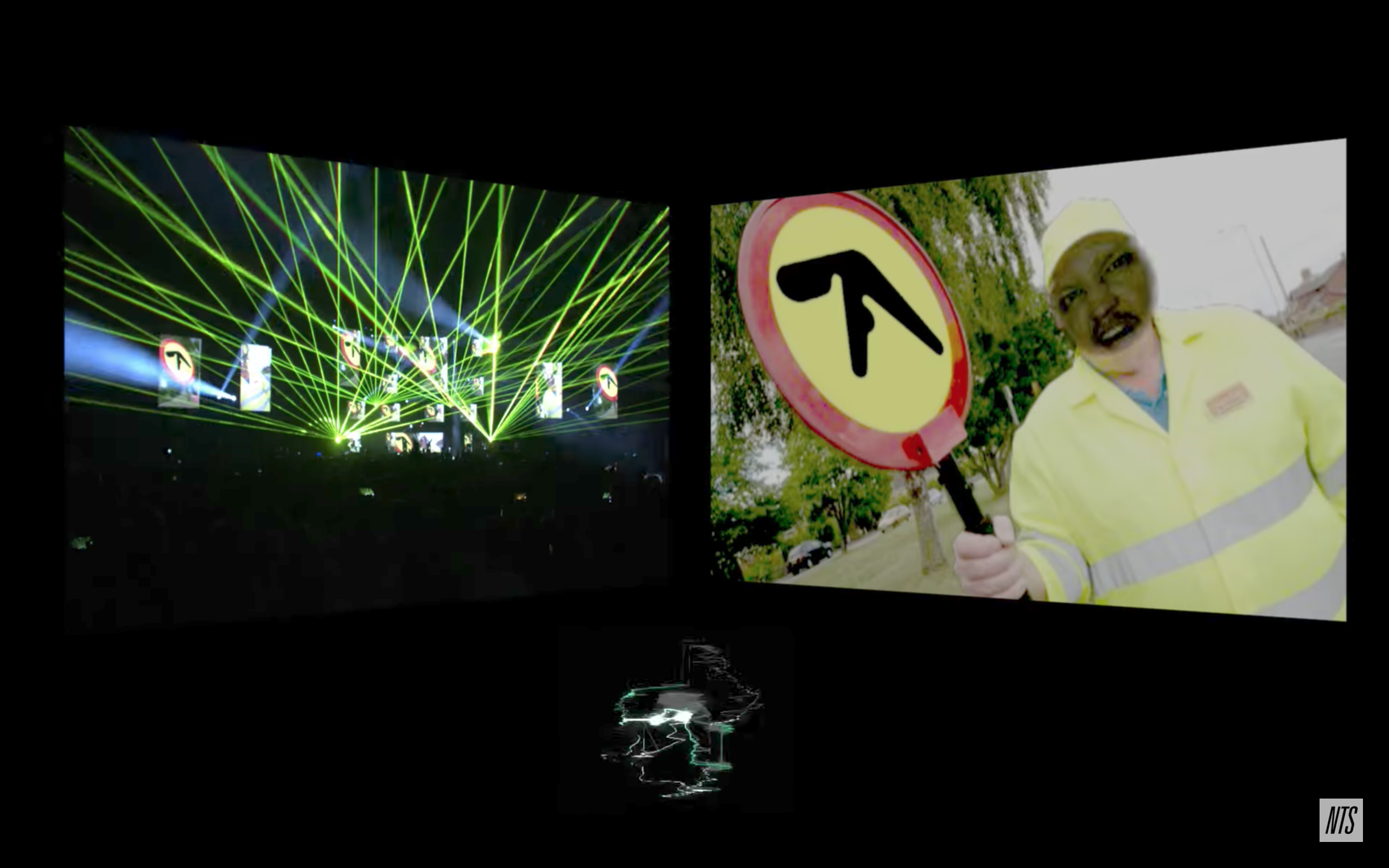 A still from a live broadcast of Aphex Twin's performance at Field Day, London, 2017. Visuals by Weirdcore. Photo: NTS
Far from a prank, it's a synergetic partnership that's still going strong today. Weirdcore describes his typical M.O. as "I try to get into the head of a client and try to deliver what they want, but not necessarily what they expect," and it's been much the same with his working relationship with James. "When I first started working with him," he explains. "I'd throw loads of references and images at him, he's say, 'I like this, I like that,' almost like sending him a questionnaire and using that to figure out what he'd want," After years of working together, the process has been streamlined. "He'll send me a picture or a clip or a concept," and I'll just go from there. He gives me the direction to go in, and I'll go with that flow in a creative way."
For AFX Station, Weirdcore's brief was to create the artwork for the packaging. It sounds simple, but in Weirdcore's world, the end result is rarely straightforward. He had worked on the visual-art end of Aphex Twin's 2018 release of the Collapse EP, a project that included a psychotropic video ("What would androids see if they were hallucinating?" as he explained it at the time), along with the release's array of collapsing-themed artwork. "I wanted to carry on with that, and have whatever was collapsing within the artwork be specific to this particular product," he says. "I used the actual circuit-board drawings, for instance."
"I'm also very much into recycling, being eco and all of that stuff," Weirdcore continues, "so I wanted to make sure that the box had a life beyond just containing the product." To that end, he recalled a visit to the Hundertwasser Museum in Vienna. "Friedensreich Hundertwasser did all this architecture that's very unconventional — lots of abstract shapes, but all part of functional buildings. And the key thing with this project is kind of the same: Normally, pretty much every artwork that you see is rectangular or square," he says. "But I had the idea that, once the box was unfolded, it could become kind of a mural, one that could be displayed in different ways with all those flappy bits on the side, the ones that appear when you unfold it. It's not rectangular or square; it's the shape it is because it's actually a box. Of course, you could cut off the flappy bits and have it be like a rectangle in a frame if you choose. The person who has it can display it how they like."
If you've been lucky enough to visit the ongoing Electronic: From Kraftwerk to The Chemical Brothers exhibition at London's Design Museum — and you really should if you are in town, as it's amazing — you might have caught a surreptitious sneak peak of the AFX Station's packaging. "The museum came to me, and were quite keen on having stuff I've done in it, with some Aphex stuff in there," Weirdcore says "But after conversations with him, I thought it would be good to have it specifically based on the Collapse campaign onwards. And because this project was done in that style, I figured we'd include it as well."
Up until now AFX Station itself has been kept under wraps; Weirdcore himself is a but fuzzy on the details. (He admits that even with years of experience with Novation products, "I'm not really much of a music-tech nerd.") But for all the information on what's new, head over to the product page.
As for what's next in the enduring, prismatically fruitful collaboration between Weirdcore and Aphex Twin…well, Weirdcore's not really one to spill the beans. But he does give a hint: "Fractals are where Richard's mind is at right now." The results, as always, should be spectacular.
Words: Bruce Tantum