Tribute To A Clash Of Cultures
Watch London jazz artist Ashley Henry perform 'THE MIGHTY' with bespoke four-wall visuals by multidisciplinary creative AyChibs.
Take two artists who've never met and set the timer on a 3D performance drawing on every ounce of their talents. The results are always going to be surprising — but that's obviously the best reason to do it. "The most exciting thing about collaboration is seeing things as you haven't seen them before," points out Ashley Henry, whose heady jazz voyage 'THE MIGHTY' evolves into a cascade of glittering patterns in the hands of musician and designer AyChibs. "It's like having a sculpture in the dark and shining a light on it to see it from different angles."
For North Londoner AyChibs, whose multi-purpose CV includes music production and animation as well as graphic design and DJing, the creative process is like pointing several torches at the sculpture at once. With his visuals responding to the rhythmic shapes embedded in Ashley's maximalist composition, the performance reflects his ability to think musically and visually in the same moment. "I was bouncing off your track," Chibs tells his collaborator. Working with someone else isn't about compromise, he explains, but about "understanding what each person wants. It's not a matter of me trying to please what they want, it's about them coming to me for what I do too."
For Ashley, knowing how to adapt and thrive as a collaborator is central to his practice, whether he's backing Christine and the Queens' suave pop as a touring keyboardist, or expanding his own compositions with guests like jazz drummer Makaya McCraven or poet Joshua Idehen. 'THE MIGHTY' is the bold finale from his 2019 debut album Beautiful Vinyl Hunter, a widescreen fusion of jazz, hip-hop and electronic pop that marks Henry out as one of the most exciting players on South London's bubbling jazz scene. The track is a tribute to "the clash of cultures brewing right now" in his neighbourhood. "It's normal to walk down a road and hear lots of different languages, but at the same time everyone is getting along and walking alongside each other in harmony. That's why it's got so many different sounds," he explains. "Each of the stems sounds weird, but together it all makes sense. I wanted the visuals to represent that, but to give the artist freedom too."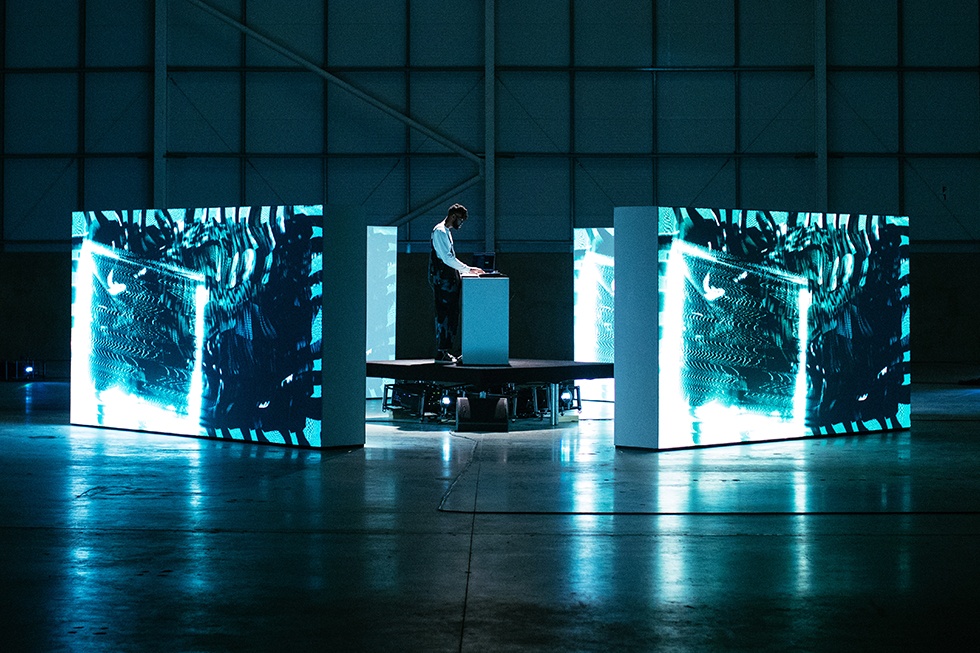 Chibs nods to the cultural geography evoked in the song with a sequence of flickering tower blocks and ghostly faces, echoing the street-level mingling of sound and colour in their shared hometown. "I like to show the artist's background and who they are, so we had a phone call and spoke about different things," he remembers. "Ashley wanted buildings to portray London and where he's from, which fits into my style — it's glitchy, colourful, a mismatch. That was perfect for this project." The result is more abstract than Chibs' usual video work for emerging UK rappers like Frenzy and Weyland McKenzie, but still stamped with a few of his signature elements, like VHS tape-warping and glitched symmetry.
While Chibs sliced and diced his visual material, Ashley broke down the elements of his maximalist track to play on the Novation Launchkey 37, boiling down his whole live setup into one instrument. "I wasn't too hot on MIDI controllers before — I usually use my actual keyboards," he explains. "But you can literally do everything on this. Having a good controller makes me want to use my plug-ins more." Like all the best collaborations, the final product came together at the eleventh hour, with the camera crew almost ready to go while Chibs was still sweating over his hard drive. "They were already at the shoot and my visuals were still exporting," he laughs. "It was a 12-hour export."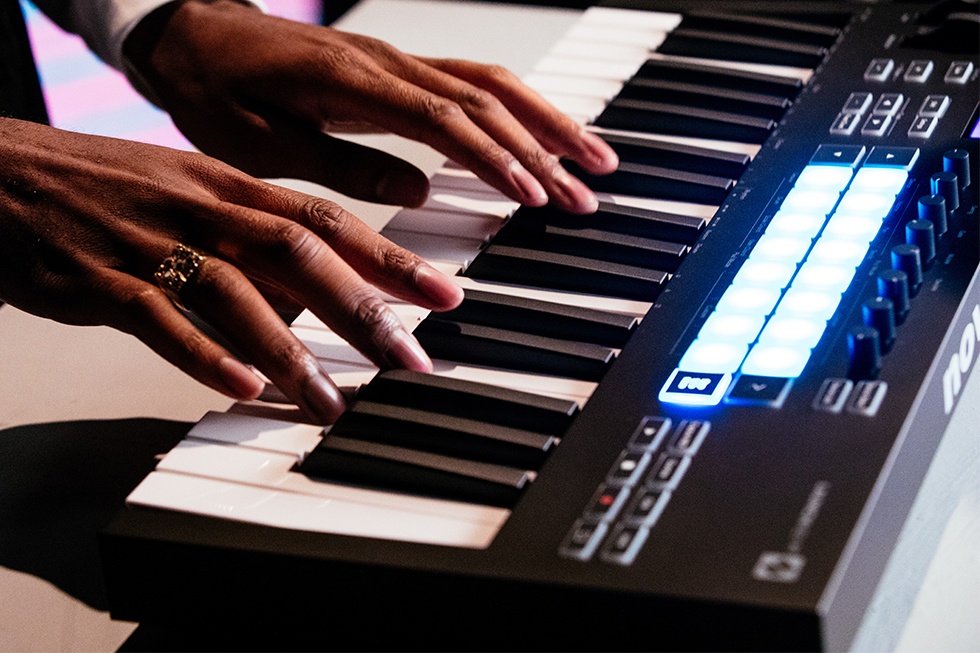 'THE MIGHTY' already had its own music video, but for Ashley, seeing the fresh visuals added a whole new dimension to his track. "I got sent a moodboard, but a moodboard is nowhere near the finished project. When I saw the visuals in the warehouse on set I was like, yeah, man — it fits the cinematic theme of the music," he says. That's why trust is one of the most important factors in any collaboration. "It's about understanding the end project before you begin, and then leaving people the space to express themselves." Sometimes, adds Chibs, "the other person involved can see things you can't see."
Words: Chal Ravens