The Brand New Launchpad Pro
Made to produce with Ableton Live and your hardware, Launchpad Pro is our most advanced 64-pad grid controller.
Launchpad Pro [MK3] combines our deepest Ableton Live integration ever with a powerful built-in sequencer and Custom Modes, giving you hands-on control over every instrument in your studio.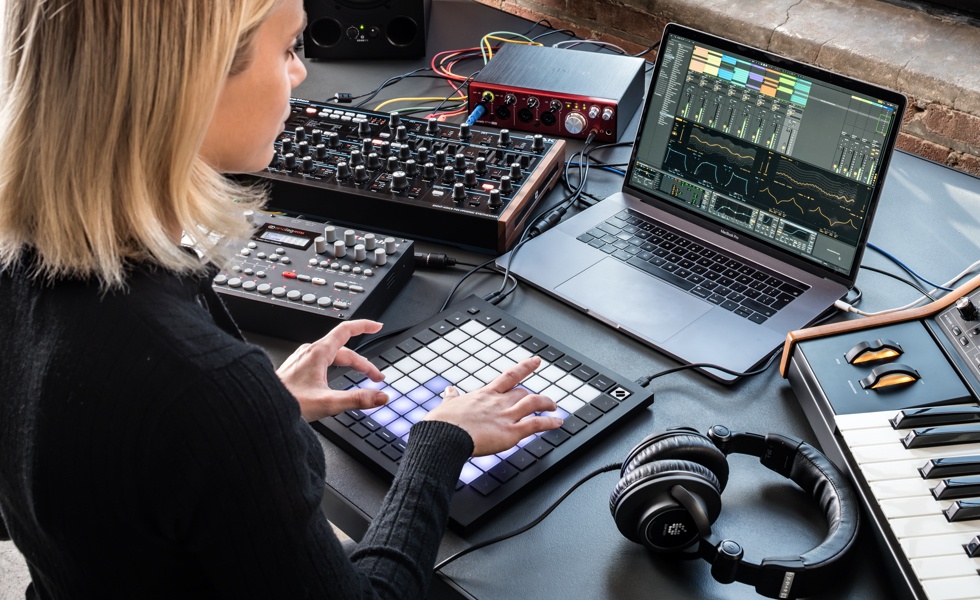 Made to produce.
Ditch the mouse and get closer to the Ableton Live workflow, with dedicated controls for clip and scene launching, transport, quantising and duplicating. On-device access to Live's Capture MIDI function means you'll never lose an idea again. Launchpad Pro even knows when you're drumming, and shows your drum rack on the grid.
For your studio.
Take control of hardware with the brand new four-track, 32-step standalone sequencer, which transforms the Launchpad Pro experience. Sequencer tracks are eight-note polyphonic, and they can sequence software or hardware instruments. Micro Steps help to take grooves off-grid, and patterns can be chained together and assigned to Scenes, to build and perform complete songs. Users can modify patterns on the fly with Probability, Mutate, Sync Rate and Play Order controls, then print directly to Live clips.
Made for you.
Launchpad Pro [MK3] can be reinvented as a custom controller for any MIDI-compatible software or hardware. Simply drag and drop widgets in the all-new, easy-to-use Components editor. Repurpose pads to send custom messages including CCs and Program Changes, and create individual colour mappings, as already rolled out in MK3 versions of Launchpad X and Mini. Store configurations as one of eight Custom Modes and switch between them seamlessly for expressive and flexible control.
The performer's pad.
Launchpad Pro [MK3] features our biggest and most responsive velocity- and pressure-sensitive pads, for maximum expressive potential. Dynamic Scale and Note Modes ensure basslines, melodies, chords and leads are perfectly in key, while Chord Mode lets you explore, build and play sophisticated chords straight from the grid. Sleek, lightweight, tough and USB-C bus-powered, Launchpad Pro is at home on stage and in the studio.
Made for everyone.
Our new Easy Start Tool helps new users get up and running in minutes with the software that's right for them, with no need to install drivers. Launchpad Pro ships with a complete production bundle including Ableton Live Lite, plug-ins from Softube, AAS, klevgrand and XLN.
Why MK3?
Yup, we skipped a generation with Launchpad Pro [MK3] — there was no MK2. (Official Novation nerd status if you spotted that.) Here's why we skipped straight to MK3: Launchpad Pro [MK3] shares all the powerful developments we made for Launchpad Mini [MK3] and Launchpad X. As such we consider all three devices part of the same family. Cut from the same controller cloth, if you like.