Square Up and get down
Circuit Tracks helps bring to life a gig a lockdown in the making.
It was a long year without live music. For artists, they missed the chance to connect with fans, play new tracks, test new live technology, hear the culmination of hours in the studio and see the real-world response from a crowd. For fans, a gig brings inspiration and freedom from the mundane, the chance to dance to their favourite songs, find new favourite beats, celebrate with friends and, of course, share blurry Instagram pictures of their idols. Now, with the return of gigs and festivals on in the UK and USA too, there's the strobe light of the dance floor at the end of the tunnel.
Down under in Australia, between lockdowns, intimate shows and socially-distanced festivals were a reality for the summer season, offering the local scenes in Melbourne and Sydney, the chance to try out new formats for live shows, and showcase resident artists as headliners for the first time. The challenges of post-COVID gigs created innovation, and the absence of the usual seasonal tours from global artists has meant that young and emerging acts can fill these top spots and perform to a music-hungry audience. In Melbourne, the city with the most live music venues per capita in the world, tour promoters and music collectives used lockdown to plan gigs and events within restrictions they'd never encountered before, with renewed passion to create and try something new.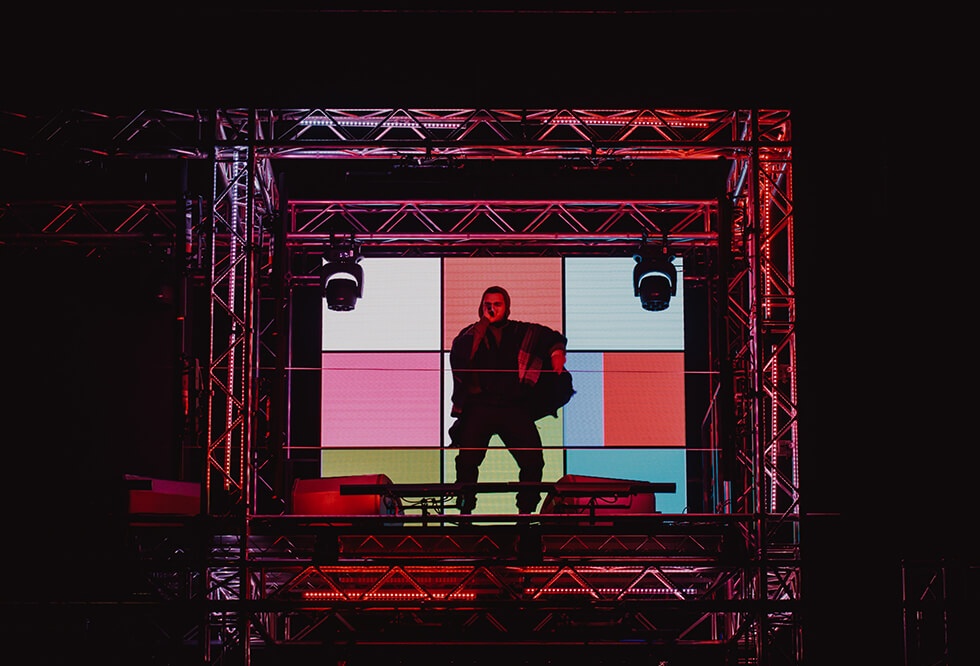 "2020 saw us boxed in, separated from everything we know as artists, agents, promoters, production crews, venue owners/management and artist management," says The Operatives Director and the creator of the SQUARE UP concept, Jerry Poon.
"This show has multiple meanings ­–– to put aside any differences, to find strength in unity, and to square up the missing year that we endured."
On paper, SQUARE UP sounded like an ambitious proposal. Inspired by the 2x2 grid format we've all become used to seeing when connecting on Zoom or Teams calls, Jerry's concept was to build a show allowing artists to break out of these literal boxes, or rather elevate them into something jaw-dropping in reality.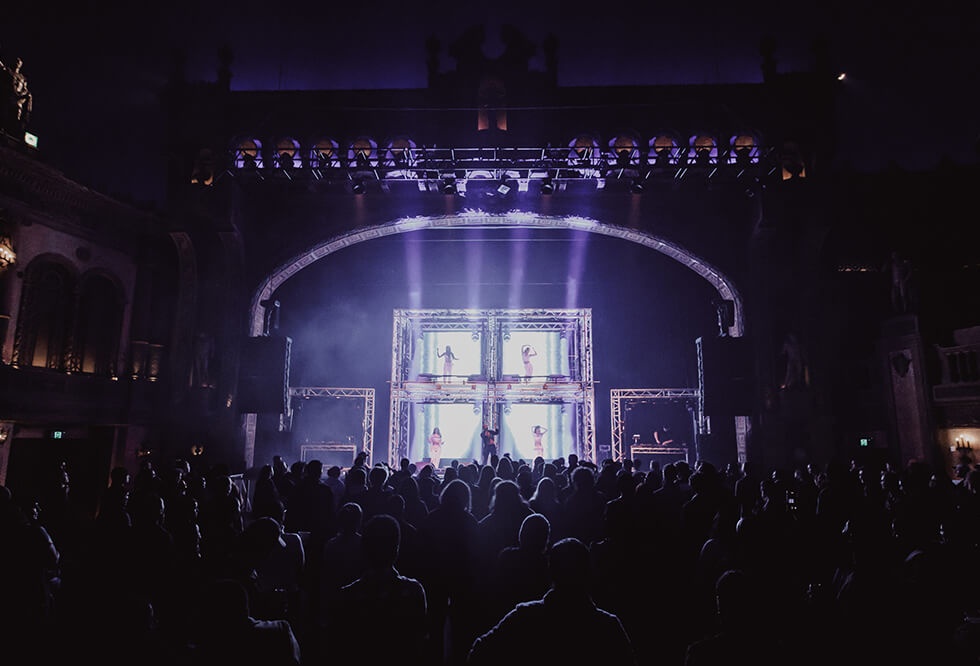 With some artists just on their first EP release cycle, SQUARE UP was set to be the first major stage they'd ever played. No stranger to supporting the next generation of artists, Jerry's collective, The Operatives, has been booking locals to play with touring internationals for the past 16 years. He says SQUARE UP was the culmination of 20 years of working in music, seeing the most innovative and creative ways to bring music to life, and putting his own stamp on it.
"I felt a need to develop an idea that focused on collaboration and involving the best talent from Victoria, with a level of production not seen for some of the younger artists out there."
"Once we had word of events being allowed, this shower-thought idea had to become a reality, to present something uniquely and outstandingly 100% Naarm [Victoria] based."
Pushing the boundaries of a regular concert experience, one that promotes the essence of collaboration and togetherness, the custom-built stage show allowed artists to instinctively overlap and intertwine on the stage at any one time. An incredible and diverse 25 musicians and DJs soundtracked the event, with genres spanning soul, hip-hop, RnB, Grime, dancehall, jazz, house, techno, drum 'n' bass, as well as dancers and a full visual show by Isaiah Morris. And, well, it has to be seen to be believed.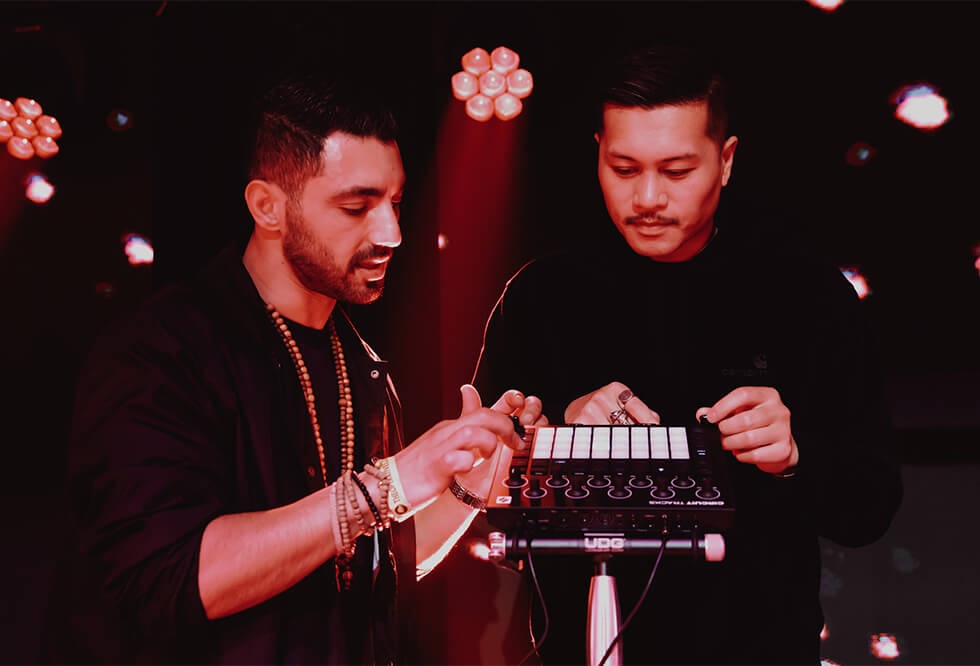 SQUARE UP's unique concept presented artists with many challenges, pushing them to break out of their usual methods of production, and so Novation presented the producers on the line-up with some of its latest technology with this in mind – Circuit Tracks.
Engineered for total flexibility with creating and performing live, the fast and intuitive groovebox is capable of making mighty sounds that defy its diminutive proportions. Its powerful FX, synth, MIDI, and drum tracks allowed the artists to create on-the-fly during the performance, and the fact its battery powered allowed the artists to create easily on the go, whether it was in rehearsals or in the studio prepping for the gig.
One of the producers on the SQUARE UP line-up instantly connected with Circuit Tracks — prolific producer and New Zealand-born, now Melbourne-based Amin Payne. A multi-talented musician whose live and recorded projects undoubtedly served as a major catalyst for the growing instrumental hip-hop scene in Melbourne, Amin has released an incredible eight albums, boasts an impressive resume of live and recorded collaborations as a solo artist, and most recently formed a band that translates his productions to instruments and vocalists named TEYMORI. Excitedly learning Circuit Track's format in under a minute, the groovebox was a welcome addition to his live set up for the SQUARE UP gig, alongside break dancers, a trumpeter, an MPC and keys.
Get to know the artists on the SQUARE UP line up with the Novation selected playlist here: