Reigniting the child-like curiosity
Shadow Child fuses massive production with musical curiosity on Circuit Tracks
Shadow Child has always been obsessed with the history of music. His desire to know and understand the roots of his favourite sounds fuels his creative drive, so it's no wonder that this innate curiosity with the history of music extends to his music production.
Simon Neale, better known as Shadow Child, has had a prolific career creating music with foundations in hard-hitting house and building beats with massive sounds. Between his Rinse FM radio hosting slot, running his record label, Food Music, and countless years touring as a DJ, he is completely immersed in music.
For Neale, the starting point for his music-making is always the hardware. Being able to get started quickly is crucial, and Circuit Tracks helps him to start making tracks with ease. "One piece of kit can take you off in a fresh direction," he says.
"Circuit Tracks helps your mind work differently, it's its own focus."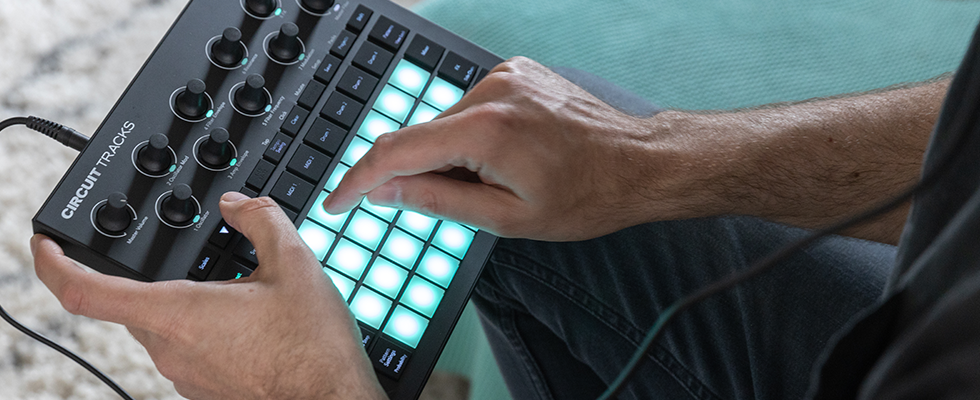 With a streamlined workflow, Circuit Tracks has helped Neale to get stuck into making beats and work quickly without complications.
"The simplicity of it shouldn't be overlooked, it's actually one of the key attractions for me."
With music engrained in every step he takes, be that playing to micro steps on Circuit Tracks, or writing music to the beat of his footsteps, Neale lives and breathes music. "I still get the same feeling that I used to get when I was 12 and 13 years old and discovering this music. I still feel the same about it," says Neale.
"We all know there are too many toys to play with now, but I find with something like this, your mind works differently," says Neale. Being able to reconnect with the child-like curiosity in his production keeps the excitement going in his work, with Circuit Tracks, he has the tools he needs to feed into that curious streak.
"Circuit Tracks is just so friendly when it comes to working quickly. It's just a really unique way of working."
Bring Shadow Child's distinctive sounds into your mixes. Experience the exclusive sound pack over on Novation's Soundcloud and start making your own beats with his sound pack, available to download from Components.
Novation Components