Patricia Wolf: Electric Energy, Creative Potential
The sound designer's approach to synthesis and her multi-machine live setup.
Patricia Wolf takes a two-stage approach to sound design. "In one way, I focus on the technical aspects of it, especially when there's new features on a synthesizer that I'm not so familiar with. So I'll play around with that and really think about what it's doing." Then, once she's familiar with her machines and their respective capabilities, she'll free herself from thinking on a purely technical point of view and consider her machines as an ecosystem, playing in harmony. "It's nice to let go of that technicality and just think of it as a living, electric energy that you can morph and change and start feeling for its creative potential."
This split creative focus has one unified goal: to enable Patricia to express herself. "The objective for me is to understand it like you understand your body, like how you want to move through the world. It just becomes natural and you can do things without thinking, or with ease, and that's what I like about getting really familiar with a synth."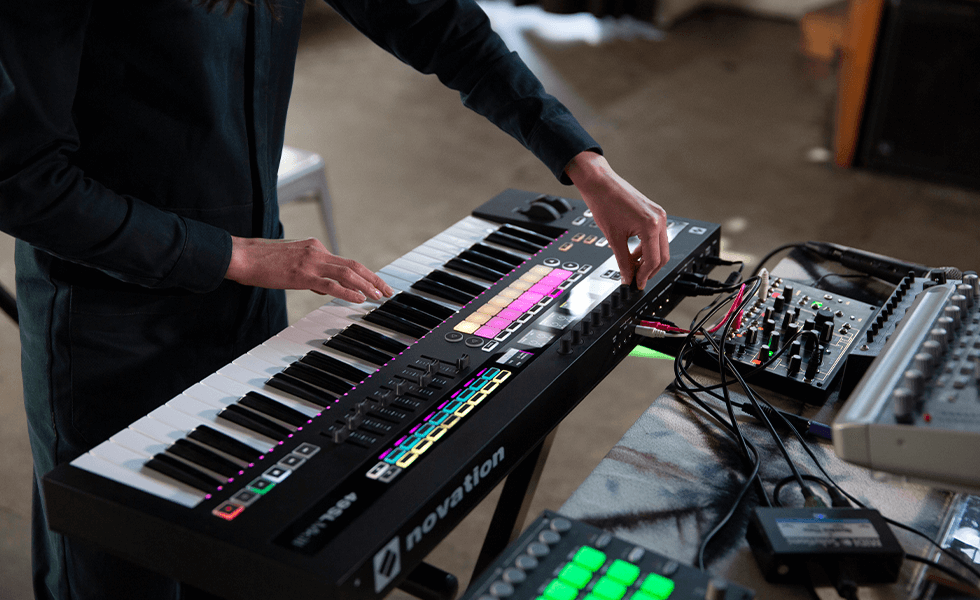 Patricia's music-making setup comprises several machines: a Novation Peak and Summit polysynths; a Boomstar 3003 semi-modular synth; a Make Noise 0-Coast single-voice synth; an Elektron Analog Rytm drum machine, and OTO BIM and BAM effects units. All her sound-generating devices are connected to a Novation 49SL MkIII controller by a mixture of MIDI and CV connections. By using templates in the SL MkIII to control multiple parameters across all her devices, Patricia is able to focus her attention on one main control surface — the SL MkIII — while maximising the technological potential of all her synths.
"You can do things without thinking… that's what I like about getting really familiar with a synth." — Patricia Wolf

Patricia also takes advantage of the SL MkIII's sequencing power. Her setup is computer-free, so all her sequences are generated either by the SL MkIII — for tonal, harmonic and melodic patterns — or the Analog Rytm, for drums. This sequencing ability, combined with parameter control and per-device controller presets, allows her to maintain creative flow without getting sidetracked by a particular machine's menu or parameters.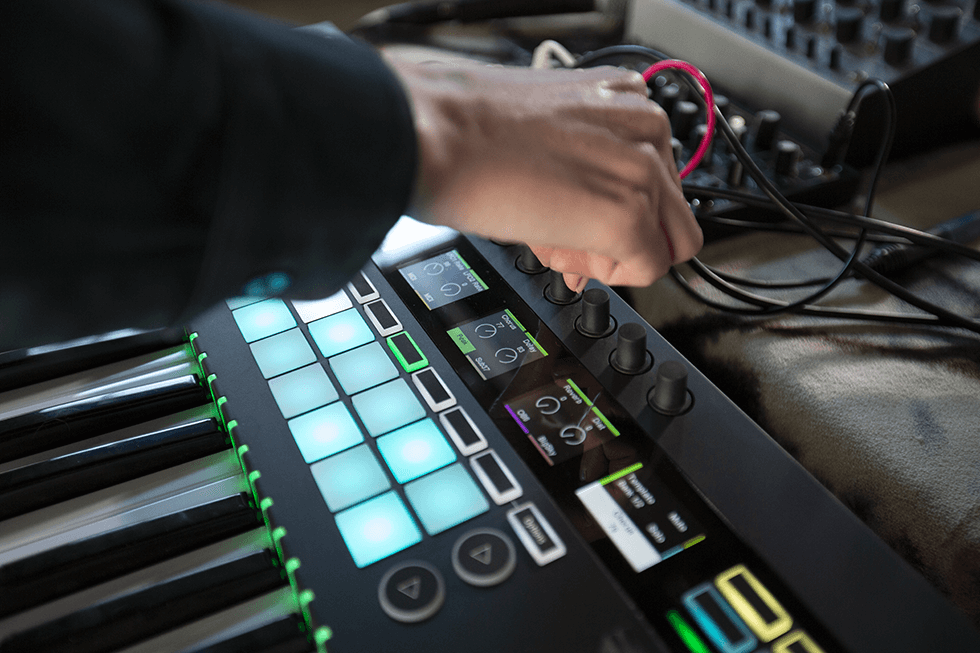 As for the specific controls mapped on her controller for the performance she filmed with Novation, Patricia explains. "The top yellow and bottom blue buttons on the right side above the keys can be toggled to be mute and solo functions for each track. Yellow is for muting the selected track and blue is for soloing. Channel 1 is the Novation Peak, the next channel is the Boomstar 3003, the next is the 0-Coast, and there's another Peak template on Channel 5." Channel 4 is connected to the Analog Rytm. She sends CV/Gate messages in addition to MIDI commands, using the connections on the SL MkIII's back panel. "The CV outputs let me make some adjustments on the sync time, gate, and pattern. I especially love the SL MkIII's Random pattern and use it on the Boomstar 3003 and 0-Coast to keep things a bit less predictable for my sequences."
On controlling the Peak, Patricia explains her parameter assignments, "I use the factory template layout for the Peak on the SL MkIII — I was happy with how it was already mapped and felt no need to change it. I mostly adjust the frequency, resonance, LFO1 and Amp Env release during my performance."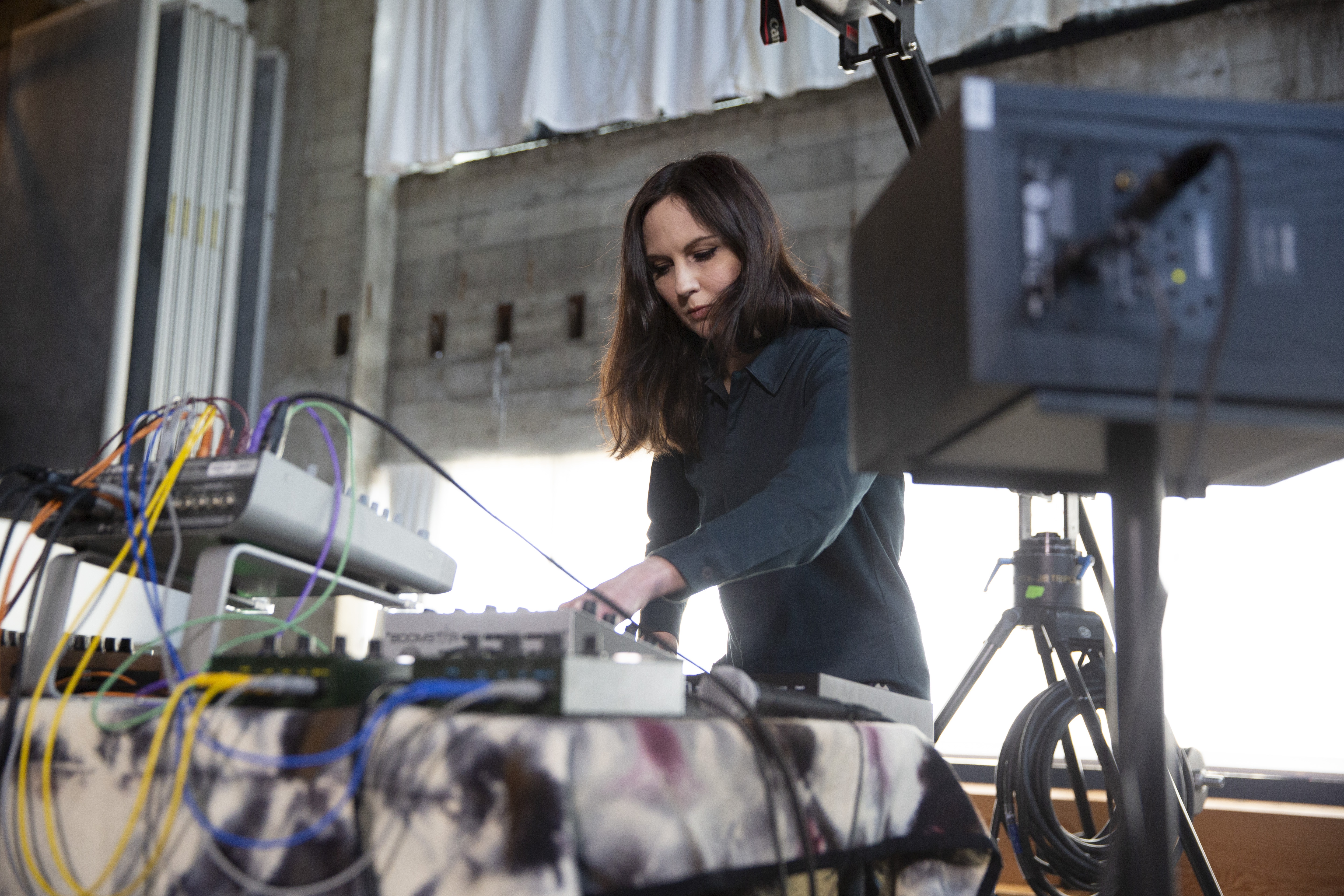 Patricia's relationship with Novation was borne out of her love of the Peak, which blossomed when she was invited to provide a sound pack for the synth's v1.2 firmware release, which is also compatible with Summit. Patricia's sounds range from lush, atmospheric soundscapes and chunky poly staples, to menacing drones and futuristic sonic effects. She made a composition using her Peak presets, which you can find online here. You can hear her playing Summit here.
Patricia's sounds for Peak and Summit are available as a free download within the v1.2 update which can be downloaded through the Novation Components app.
Words & Pictures: Chris Mayes-Wright