Introducing FLkey Mini & FLkey 37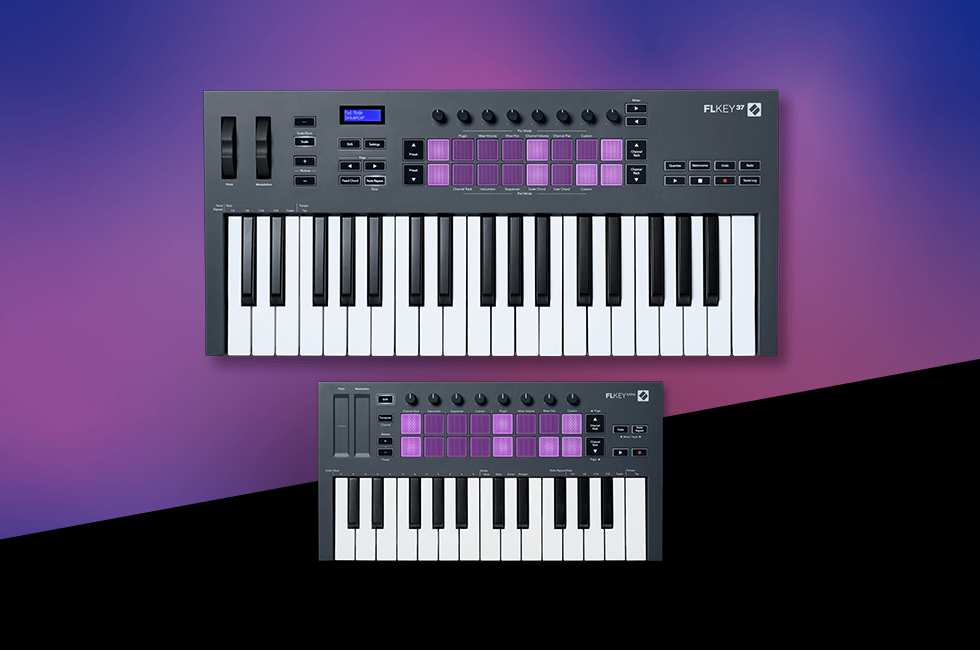 Working closely with FL Studio creators, Image Line, we have designed the ultimate range of MIDI keyboards for making music in FL Studio. With controls for FL Studio's Sequencer, Channel Rack and Mixer, and creative Scale and Chord modes, FLkey lets you play freely so you can make more of your music.
Whether you're just starting with FL Studio or a power user, a beatmaker or composer or anything in between, FLkey can help you express your creativity and make the most of your studio sessions with a MIDI keyboard controller designed to work seamlessly with your production set-up.
Essential controls when you need them
Sequencer Mode gives you hands-on access to FLkey's pads to FL Studio's step sequencer for sketching beats fast. Two Pad modes give your rhythms a real human feel, and get you off the grid: play straight into the Channel Rack or FPC, and trigger slices in SliceX. Need some crisp hi-hat rolls? Note Repeat makes it easy every single time.
Get your track release ready with FL Studio's volume and pan controls off the screen and into your hands – use the eight pots to tweak your mix and record automation on the fly. Essential transport buttons give you access to DAW functions in an instant. Browse presets in your Image Line plug-ins to change up instruments and sounds fast, with no mouse needed.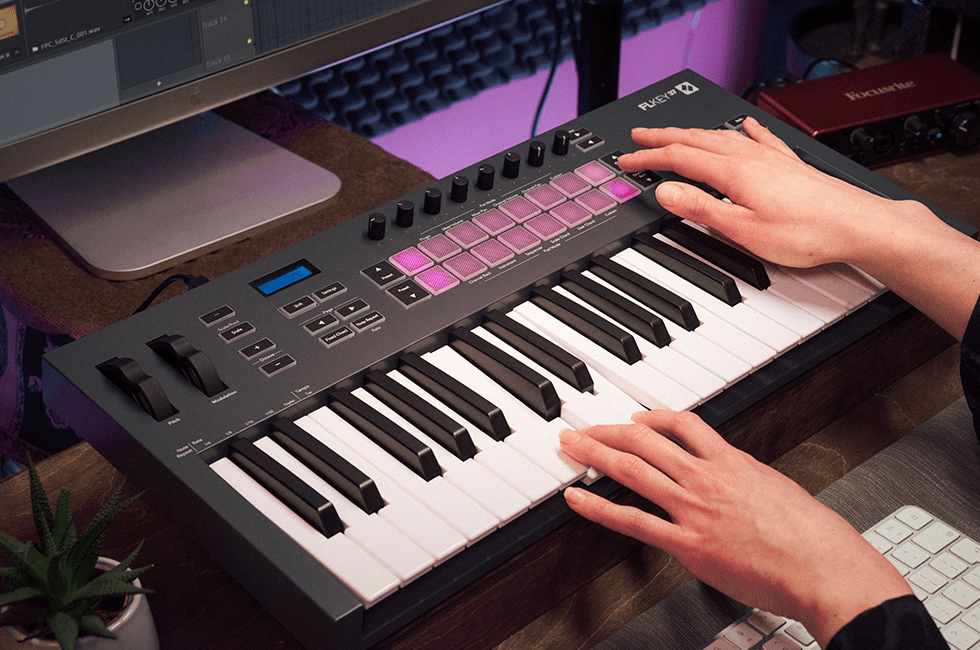 Bring your creative sessions in FL Studio to life
Scale mode means you always hit the right note, keeping the music flowing. Easy-to-use Chord modes expand your creative potential. Combine musical tools and seamless FL Studio integration to unlock new creative boundaries and find ideas you never knew you had. 
Whatever the size of your studio space, FLkey has you covered. FLkey Mini, with 25 mini keys, easily fits into a backpack or on a busy desk, making it ideal for the on-the-go producer. FLkey 37, with 37 full-size keys, is the perfect balance of key range and footprint for any bedroom studio. FLkey 37 also comes with a screen, Chord Modes and additional FL Studio transport control.
FLkey comes with a bundle of instruments and effects from our friends at AAS, Spitfire Audio, XLN Audio and Klevgrand. Throw all this content into your existing FL Studio projects or have a go with an included 6-month free trial of FL Studio Producer Edition.