Introducing Circuit Rhythm
Get ready to flip samples into dope beats with our newest sample-based groovebox, Circuit Rhythm.
The latest addition to our Circuit family combines our acclaimed intuitive screenless workflow with full-fledged sampling capabilities. Circuit Rhythm has a few extra tricks up its sleeve that makes it the perfect machine for the modern beatmaker.
Sampling is at the core of Circuit Rhythm. Plug your phone, turntable or synths into Rhythm's audio inputs and record sounds directly to the machine. Play back samples however you choose, whether you're chopping straight from vinyl, making basslines and melodies, or playing in drum beats. Get hands-on with your samples with controls for distortion, slope, high and low pass filters, and more. Send tracks to lush delay and reverb to make your beats sound huge. Processed samples can then be re-sampled to create entirely new sounds.
Circuit Rhythm's eight sample tracks, each with their own 32-steps patterns, gives you plenty of space to turn captivating hooks into full blown tracks, chainable for 256 steps per track.
Keep your beats quantised or take your grooves off-grid and record to micro steps for a real human feel. For an extra kick, you can push your performances to new heights with Grid FX. With vinyl simulation, beat repeat,and many more performance-focused Grid FX, you can bring your beats to life with dynamic sounds in live sets.
Take a look at Circuit Rhythm in action:

Circuit Rhythm can slide into your studio setup easily, or use it as a standalone groovebox. You can create anywhere thanks to the built-in rechargeable battery, and expandable storage via a microSD card slot means you'll never have to stop sampling. You'll have everything you need to make sick beats on the fly. With Novation Components, you can customise Circuit Rhythm to your liking – load your favourite samples with ease and build the perfect Grid FX layout for your next live show.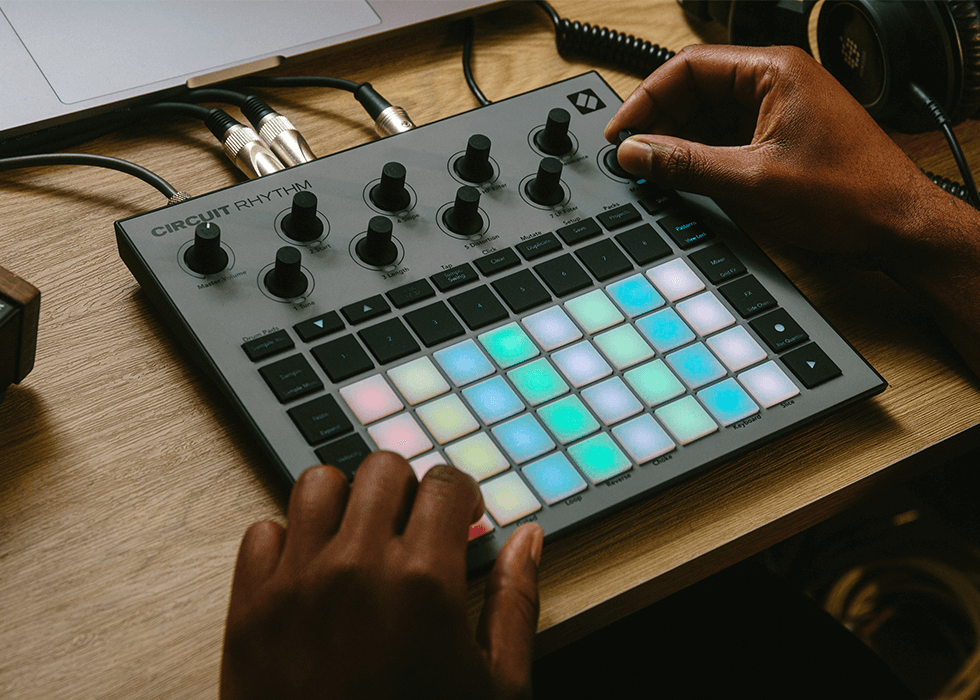 Make samples completely your own, build beats with feeling, and perform with ease with Circuit Rhythm.