How to make a beat without a computer on Circuit Rhythm with TRISHES
TRISHES challenges the confines of art and constructs of the self by using music, visual art and spoken word to delve into our psyches. Her undeniably original songwriting, fleshed out by hip-hop beats and pop hooks, examines human struggle through an anthropological lens to prompt listeners on a journey of self-inquiry.
The Trinidadian-American musician has been featured on NPR, Billboard, Rolling Stone India, MTV India, and VH1 India, and performs internationally, playing many festivals including SXSW, CMW, Women's Redrock Festival, Tune In Tel Aviv, Linda Perry's Rock N Relief, Pyramid Yoga Festival and more.
Not only known as an artist, TRISHES's passion for racial justice and her background as an immigrant has led her to work on campaigns for Crooked Media and the Progressive Turnout Project, as well as performing and volunteering with the Bernie Sanders campaign in 2020.
Today, we join TRISHES in her home studio as she walks us through how she uses Circuit Rhythm to stay connected with her music and create the beat for her song 'Animal', as well as how she uses the groovebox to give the track new dimension when performing live.
Keeping musical focus with Circuit Rhythm
With music that focuses heavily on introspection and self-discovery, TRISHES's creative process takes an equally focused approach.
Using Circuit Rhythm, TRISHES is able to keep connected with her music with minimal distractions, allowing her work to flow and evolve naturally while coming up with new ideas. "It really helps me build new types of rhythms," says TRISHES, "I really get stuck in the same patterns, particularly with rhythmic patterns."
Being able to disconnect from the outside world and reconnect with herself and her music is integral to being able to communicate more complex meanings in her music, as well as stay tuned in to her creativity.
"Having a way that I can work on music and feel really creative without needing to be glued to as screen has been really important to me in my career, but also personally."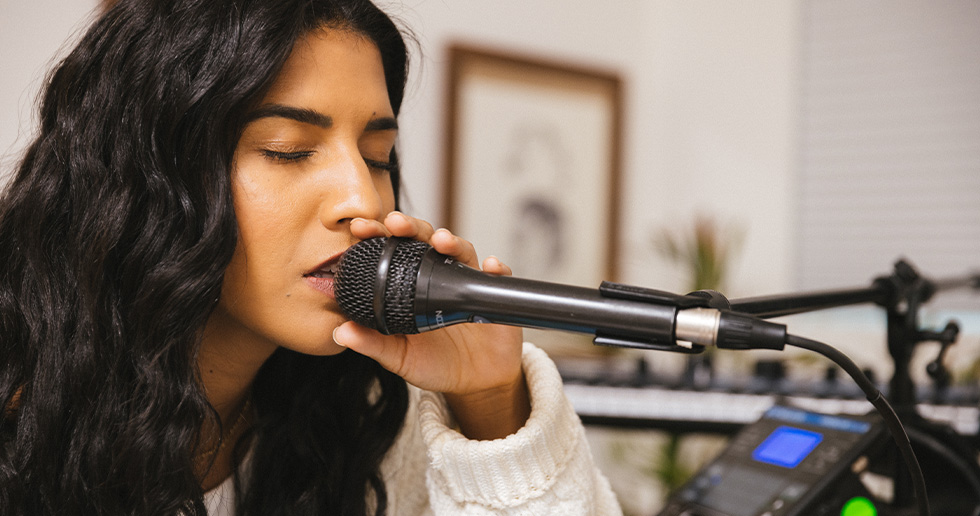 Building a TRISHES beat
In the process of creating her track 'Animal', TRISHES explains that she likes to come up with concepts initially when producing her music. For 'Animal', vocal sampling is the highlight, so with her samples at the ready loaded into Circuit Rhythm, she begins programming the track.
Firstly, she lays down the core of her beat. She programmes a kick drum in triplets using the Micro Step feature. She follows this will bass, adjusting the sample length and adding distortion to get the perfect sound, all from Circuit Rhythm's onboard functions.
"I love Circuit Rhythm because it really helps me build new types of rhythms. I really get stuck in the same patterns, particularly with rhythmic patterns."
Using Circuit Rhythm's sidechaining and FX, TRISHES give her beats more sonic dimension. She sidechains the bass to the kick drum, and this gives her the minimal beat a subtle dynamic and interest. To finish things off, she adds a snare and percussion, adjusting the velocity of her samples to give the rhythm of her beat more movement.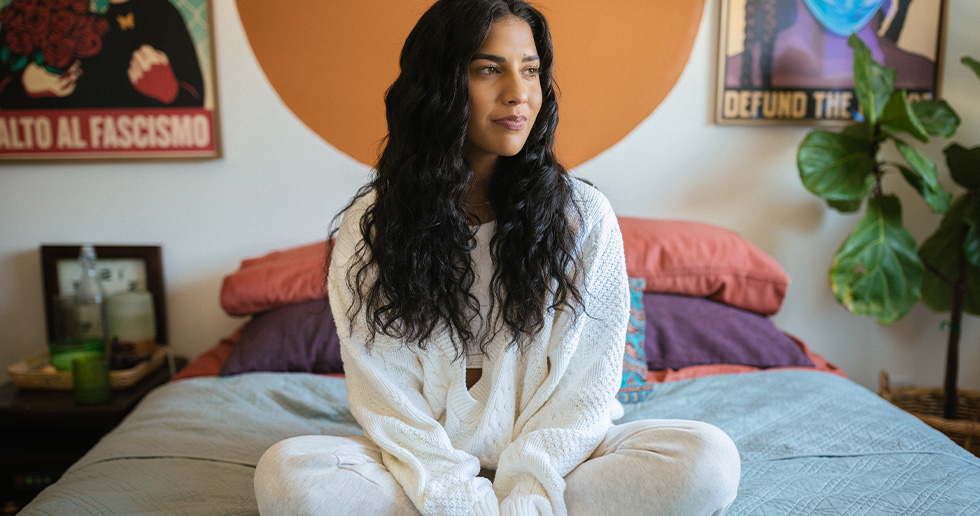 Spotlight on vocal sampling
For TRISHES, vocal sampling as the core of her music making, so she pays particular attention to how to accentuate that, both in making her beats and also during her performance.
"Vocal looping is the core of what I do. I created TRISHES to be able to express conflicting things I was feeling."
On Circuit Rhythm, she adds reverb and delay to her vocal samples to give her samples dynamic and texture, and during her performance, she's able to express freely thanks to Circuit Rhythm's no-fuss functionality – with a screenless workflow there are no distractions, it's just her and the music.
With fixed length recording on Circuit Rhythm, TRISHES is able to record a fixed length sample as she performs, adding a new sonic layer to her beat, and editable Grid FX allows her to manipulate her beat in real time with effects.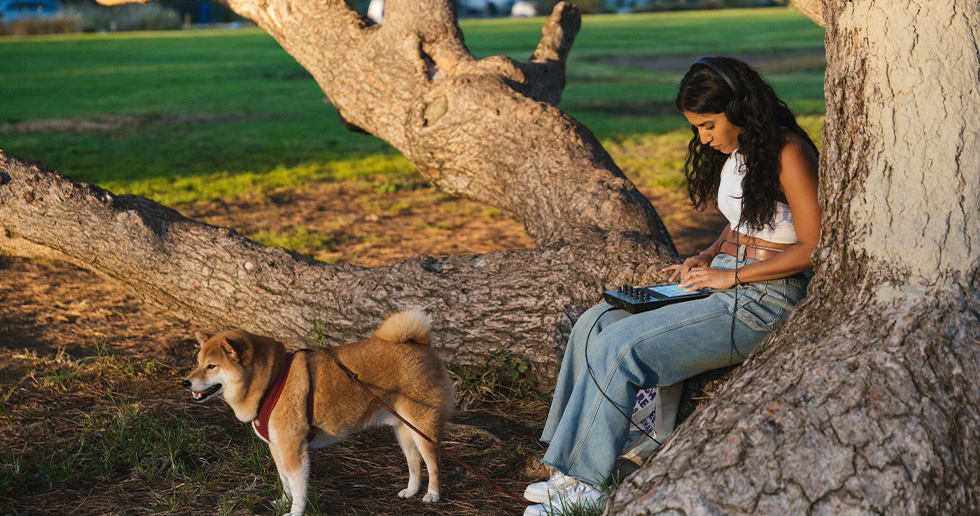 A streamlined workflow for creative clarity
With Circuit Rhythm, the focus is on you and your music. Free from external distractions, you're able to stay hands on with your beatmaking wherever you are. You can take Circuit Rhythm with you anywhere and be inspired in new ways in new places, and not be limited to your studio.
"It really helps me disconnect", says TRISHES, "I really like to be outside with my dog, I really like to not be on my phone and not be on my computer. It has been a really important part of my mental health."
A beneficial aide for music making and well-being, Circuit Rhythm helps creativity in countless ways. Circuit Rhythm gives beatmakers and performers the power to create and perform expressively and lets you follow wherever inspiration takes you.