How sampling permeates art and music
We talk sampling with producer and label boss Sameed Rezayan.
Sampling has been an intrinsic part of art for decades and was born out of the need to express creatively with limited means, reaching as far back as the Dadaist movement in the 1920s in concept, and the 1940s with the audio recordings of Pierre Schaffer and musique concrète in execution.
So, what is sampling?If you want a dictionary definition, sampling is 'the action or process of taking samples of something for analysis' and 'the technique of digitally encoding music or sound and reusing it as part of a composition or recording'. Sampling is a method of taking something away and reusing it.
Sameed Rezayan, a producer and DJ hailing from Manchester, has developed an extensive knowledge of hip-hop samples from an early age. From producing his own music to running his own label, ELE Records, Sameed has built his career around his fascination behind the methodology and culture surrounding sampling.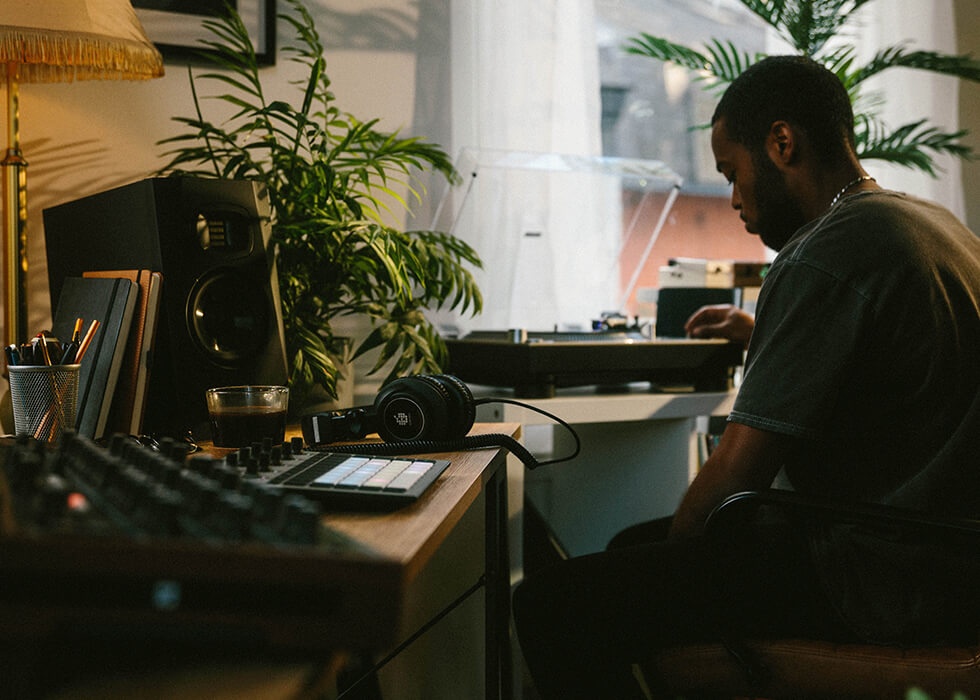 "Hip-hop sampling is not isolated. It came about through oppressive socio-economic conditions in America and technological advancements in affordable musical instruments, which brought about a revolution in art and music," Sameed explains.
"In the words of Lauryn Hill, 'Hip-hop was born through people who didn't necessarily have traditional musical training, the best tools, and in some cases even instruments, but found a way to express themselves despite that. My art exists because it has a will to exist, like hip-hop.' Sampling was anti-bourgeois and a form of protest against oppressive structures."
Acts of resistance are commonplace in music, and with this new means of creative musical experimentation, sampling gave often overlooked communities in music a chance to express themselves.
"Early uses of sampling in popular music came from artists like The Beatles using pre-recorded samples from the Mellotron on Strawberry Fields, and the '70s saw the Fairlight CMI used by Herbie Hancock, Peter Gabriel and Kate Bush," Sameed continues. "In the '80s, artists like Dr Dre, Beastie Boys and Pete Rock started using samplers like the E-Mu Emulator 1 and 2, and others. Today, sampling has evolved exponentially and pretty much anyone can sample using a DAW".
However, this new creative means of making music with existing sound was not met without resistance. "When De La Soul sampled the band The Turtles on seminal debut album '3 Feet and Rising' in 1989," Sameed explains, "a new legal precedent was set. Mark Volman of The Turtles, told the Los Angeles Times: 'Sampling is just a longer term for theft. Anybody who can honestly say sampling is some sort of creativity has never done anything creative.' Volman then sued De La Soul and won the case. Sampling, historically and literally speaking, became known in the industry as theft." In a similar occurrence in 1991, Biz Markie went up against songwriter Gilbert O'Sullivan for his use of a sample from O'Sullivan's 'Alone Again (Naturally)' on Markie's own song 'Alone Again'. Going forward, sampling would become more regulated, with legal clearances needed before their usage, and subsequently changing the face of hip-hop forever.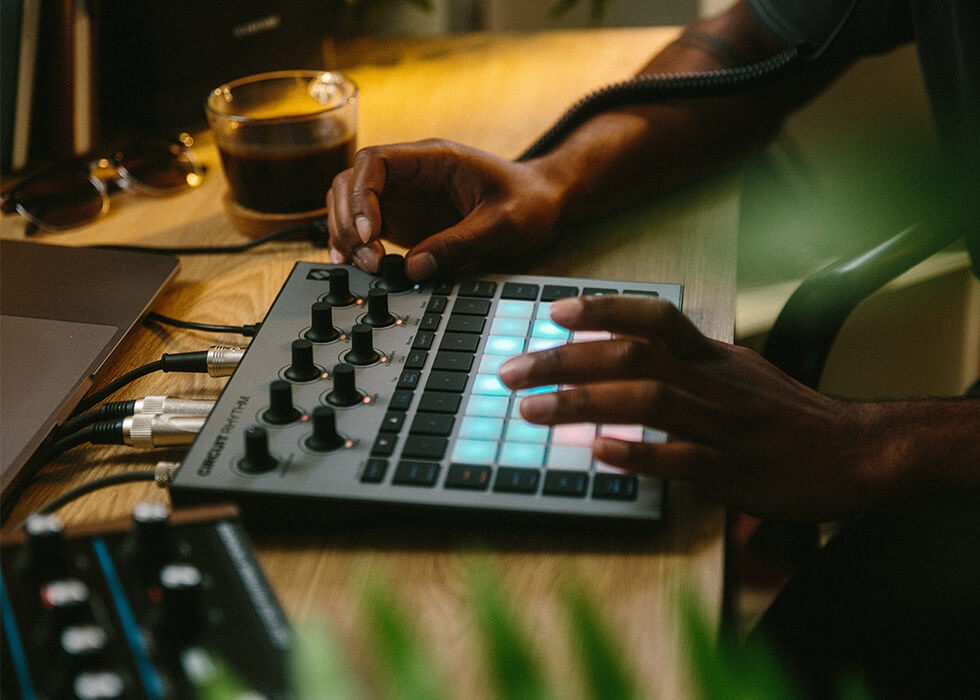 Starting off young
Growing up, Sameed was introduced to music from an early age. With his mother being a fan of Northern Soul, Sameed was exposed to a collection of obscure Motown and R&B records, CDs and cassettes that she would play. "When I was at nursery, they called my parents in saying 'Sameed doesn't participate in music. He doesn't like music,' to which my Mum replied, 'well, he loves music at home, what are you playing?'. I was so used to hearing an eclectic mix of music at home that nursery rhymes seemed dead."
Being immersed in a culture of MTV Bass, Trouble TV and champagne/club rap during his teenage years, Sameed was then introduced to a new yet familiar sound. "I heard the sounds of my childhood – Aretha Franklin, Marvin Gaye, Sade, The Temptations – reimagined through Common's 'Be', Kanye West's 'College Dropout', Outkast's 'Speakerboxx/Love Below', MF DOOM's 'MM Food' and The Roots' 'Tipping Point'. I was hooked."
Sameed's approach to sampling comes from both musical inspiration, as well as theoretical concepts.
"I employ methods taken from Political-Sociology, predominantly from Michel Foucault and his method of 'Archaeology' as written about in 'Madness and Civilisation'. Examining the traces and orders of the past in order to understand the history of the present. I see sampling in hip-hop as a continuation of a methodology or process what has been used for hundreds of years by countless people."
Sampling in music actively challenges perceptions of its usage in music and now has become common practice across countless genres.
"There is a perception of sample-based music being of a lower class or standard than traditional forms of music, such as instrumental bands. For me, this is rooted in structural and semantic racism that pervades many of our cultural institutions."
Taking this theoretical approach to his music offers him a unique perspective to his music making, unravelling the history of music as he goes. "When I sit in the studio to research, record a show or make beats, I dig as deep as possible. I don't stop at the sample, I look at who produced it, who played on the record, what other records they played on, who else they worked with, who influenced them and I end up in some obscure places. There's no end point. It's not a destination, it's a journey."
Samples from Sameed's history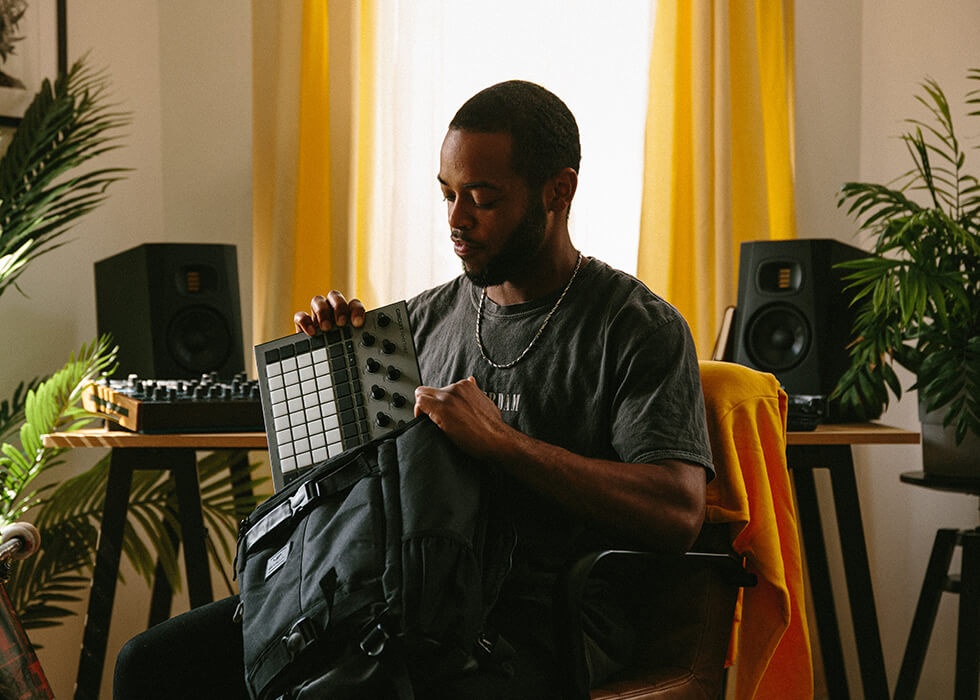 Modjo's 'Lady, Hear Me Tonight' was one of the cassettes I remember buying in HMV. I sold sweets and cans of drink out of my bag at school, collected my parents 1p and 2p coins, did odd jobs around the neighbourhood and delivered flyers to fuel a collection of CDs and tapes. I still have them. I love this record. Iconic.
This one reminds me of my daughter. I still have all my old Hip Hop CDs and Erykah is one of her faves. We danced around the kitchen together to this many times.
The streets will never forget Michael McDonald. This track was a pivotal West Coast funk moment.
One of the icons of hip-hop sampling. So many artists and so many roads lead back to Quincy.
MF DOOM brought a whole new vibe with this, also it's the easiest song to sing along to.
Mobb Deep sampled this track – one of the most underrated, underappreciated in the history of music. This album by Les McCann is in my top 5 records.
Part of a bigger story
This musical journey is something that permeates the essence of sampling. Sampling allows us to connect the history of music, weaving familiar sounds in new ways, and becoming part an ever-evolving musical tapestry.
"I didn't have the capital to invest in instruments," he explains. "I started with a free version of Logic and a computer. I had turntables and records handed down to me by family or friends. I worked a minimum wage job and spent my entire day wages on my lunch break record shopping."
These efforts were not made in vain, though.For Sameed, the hours spent honing his craft in sampling helped to forge his musical career."I remember being on a train to a gig, DJing, and showed some tracks I had been working on to a friend who didn't believe I had made them. The next day I picked 10 records out from labels I respected, found their emails online and sent over about 10 tracks. Later that week, I signed with Local Talk. That EP had Angie Stone, Eddie Kendricks and Yussef Latif on them. I still have the records I used to sample."
Although sampling is no longer the "free-for-all" scene it used to be, artists are continuing to stay inspired by sounds and the past and turn them into something new. "If you're looking for samples, go to a record store. If you're looking for history, go to Whosampled or Discogs." For newcomers, sampling might seem like a daunting process to start building up your own sample catalogue and making samples your own. However, the beauty in sampling is its freedom. Find what inspires you and run with it.
"There is no correct way to sample. There's no handbook that will teach you how to do it. The whole essence is DIY, so make mistakes, have fun and experiment. Slow it down, stretch it, mess around with the order. Chop it up, move it around, do whatever you want."

Words: Zainab Hassan